Honda Accord: Oil Pan Remowal
1. If the engine is already out of the vehicle, go to step 19.
2. Remove the strut brace (if equipped) (see page 20-306).
3. Do the battery removal procedure (see page 22-92).
4. Remove the air cleaner assembly (see page 11-332).
5. Remove the harness clamps, then remove the battery base (see step 8 on page 5-3).
6. Remove the front engine mount stop (A), then remove the front engine mount bolt (B).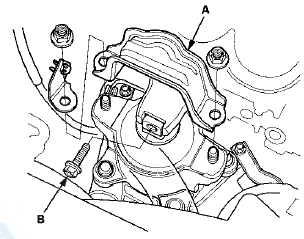 7. Loosen the rear engine mount mounting bolts (A),
M/T model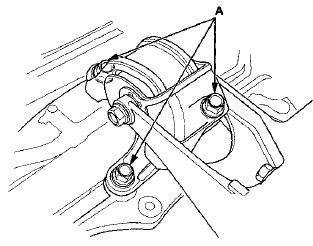 A/T model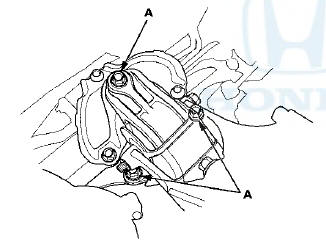 8. Loosen the upper transmission mount bracket mounting bolts (A).
8VS/T model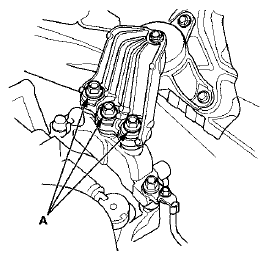 A/T model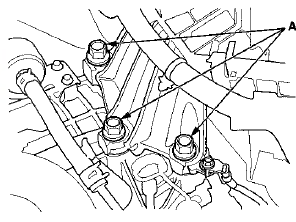 9. Raise the vehicle on the lift.
10. Remove the left front wheel.
11. Remove the splash shield (see step 25 on page 5-5).
12. Drain the engine oil (see page 8-11).
13. Separate the left side knuckle from the lower arm (see step 5 on page 18-21).
14. Remove the left side damper fork (see step 3 on page 18-21).
15. Remove the left side driveshaft (see page 16-4). Coat all precision-finished surface with new engine oil. Tie a plastic bag over the driveshaft end.
16. Remove the nuts securing the lower transmission mount (see step 49 on page 5-9).
17. A/T model: Remove the shift cable bracket.
- Vlehicles with JHM VINs (see step 46 on page 14-200).
- Vehicles with 1 HG VINs (see step 48 on page 14-200).
18. Use a transmission jack to lift the transmission 30-40 mm (1.2-1.6 in).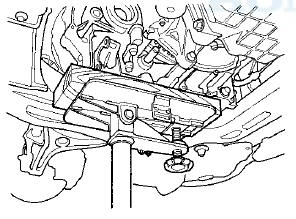 19. Remove the clutch/torque converter cover (A), and remove the two bolts securing the transmission.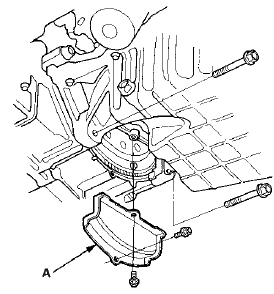 20. Remove the bolts securing the oil pan.
21. Using a flat blade screwdriver, separate the oil pan from the engine block in the places shown.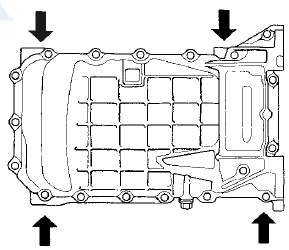 22. Remove the oil pan.