Honda Accord: Valve Body Repair
NOTE: This repair is only necessary if one or more of the valves in a valve body do not slide smoothly in their bores. Use this procedure to free the valves.
1. Soak a sheet of #600 abrasive paper in ATF for about 30 minutes.
2. Carefully tap the valve body so the sticking valve drops out of its bore. It m a y be necessary to use a small screwdriver to pry the valve free. Be careful not to scratch the bore.
3. Inspect the valve for any scuff marks. Use the ATF-soaked #600 abrasive paper to polish off any burrs that are on the valve, then wash the valve in solvent and dry it with compressed air.
4. Roll up half a sheet of ATF-soaked #600 abrasive paper and insert it in the valve bore of the sticking valve.
Twist the paper slightly, so that it unrolls and fits the bore tightly, then polish the bore by twisting the paper as you push it in and out.
NOTE: The valve body is aluminum and does not require much polishing to remove any burrs.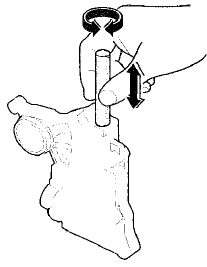 5. Remove the #600 abrasive paper. Thoroughly wash the entire valve body in solvent, then dry it with compressed air.
6. Coat the valve with ATF, then drop it into its bore. It should drop to the bottom of the bore under its own weight. If not, repeat step 4, then retest. If the valve still sticks, replace the valve body.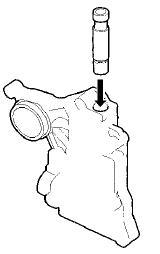 7. Remove the valve, and thoroughly clean it and the valve body with solvent. Dry all parts with compressed air, then reassemble using ATF as a lubricant.
1. Remove the ATF feed pipes (A) and the ATF joint pipes (B). 2. Remove the ATF strainer (C) (two bolts). 3. Remove the regulator valve body (D) (eight bolts). 4. Remove the stator shaft (E) and ...
1. Coat all parts with ATF before assembly. 2. Install the valves and the springs in the sequence shown for the main valve body (see page 14-277), the regulator valve body (see page 14-279), and ...
See also:
GPS Antenna Removal/Installation
1. Remove the rear shelf (see page 20-128). 2. Disconnect the GPS antenna connector (A), and remove the bolt (B). 3. Detach the harness clips, and remove the GPS antenna (C). 4. Install the ...
Front Fender Fairing Replacement
For Some Models NOTE; - Take care not to scratch the body. - Put on gloves to protect your hands. 1. Remove the front Inner fender as needed (see page 20-290). 2. From the wheel arch, rele ...
Steering Angle Sensor Replacement
SRS components are located In this area. Review the SRS component locations: 4-door (see page 24-21), 2-door (see page 24-23) and the precautions and procedures (see page 24-25). NOTE: Do not da ...