Honda Accord: Valve Body and ATF Strainer Removal
1. Remove the ATF feed pipes (A) and the ATF joint pipes (B).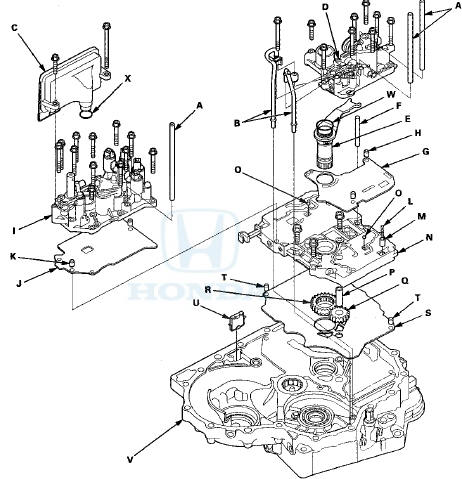 2. Remove the ATF strainer (C) (two bolts).
3. Remove the regulator valve body (D) (eight bolts).
4. Remove the stator shaft (E) and the stator shaft stop (F), then remove the regulator separator plate (G) and the two dowel pins (H).
5. Remove the servo body (I) (12 bolts), then remove the servo separator plate (J) and the two dowel pins (K).
6. Remove the cooler check valve spring (L) and the cooler check valve (M), then remove the main valve body (N) (three bolts). Do not let the two check balls (O) fall out, and do not use a magnet to remove the check balls, it may magnetize them.
7. Remove the ATF pump driven gear shaft (P), then remove the ATF pump driven gear (Q) and the ATF pump drive gear (R).
8. Remove the main separator plate (S) and the two dowel pins (T).
9. Remove the ATF magnet (U), clean and reinstall it in the torque converter housing (V).
10. Clean the inlet opening (A) of the ATF strainer (B) thoroughly with compressed air, t h e n check that it is in good condition and that the inlet opening is not clogged.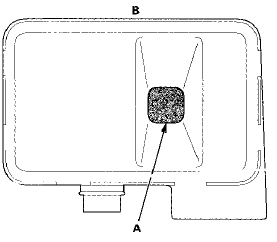 11. Test the ATF strainer by pouring clean ATF through the inlet opening, and replace it if it is clogged or damaged.
12. Remove the O-rings (W) (X) from the stator shaft and the ATF strainer. Install new ones when installing the valve bodies.
NOTE: This repair is only necessary if one or more of the valves in a valve body do not slide smoothly in their bores. Use this procedure to free the valves. 1. Soak a sheet of #600 abrasive pape ...
See also:
Stabilizer Link Removal/Installation
1. Raise and support the vehicle (see page 1 -13). 2. Remove the front wheel. 3. Remove the self-locking nut (A) and the flange nut (B) while holding the respective joint pin (C) with a hex wr ...
Important Maintenance Precautions
If you have the required service done but do not reset the display, or reset the display without doing the service, the system will not show the correct maintenance intervals. This can lead ...
Low Oil Pressure Indicator Circuit Troubleshooting (Short)
1. Connect the Honda Diagnostic System (HDS) to the data link connector (DLC) (see step 2 on page 11-3). 2. Turn the ignition switch to ON (II). 3. Make sure the HDS communicates with the vehic ...