Honda Accord: Valve Body and ATF Strainer Removal
1. Remove the ATF feed pipes (A) and the ATF joint pipes (B).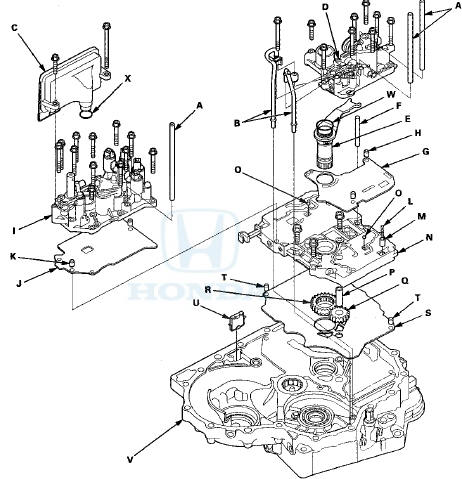 2. Remove the ATF strainer (C) (two bolts).
3. Remove the regulator valve body (D) (eight bolts).
4. Remove the stator shaft (E) and the stator shaft stop (F), then remove the regulator separator plate (G) and the two dowel pins (H).
5. Remove the servo body (I) (12 bolts), then remove the servo separator plate (J) and the two dowel pins (K).
6. Remove the cooler check valve spring (L) and the cooler check valve (M), then remove the main valve body (N) (three bolts). Do not let the two check balls (O) fall out, and do not use a magnet to remove the check balls, it may magnetize them.
7. Remove the ATF pump driven gear shaft (P), then remove the ATF pump driven gear (Q) and the ATF pump drive gear (R).
8. Remove the main separator plate (S) and the two dowel pins (T).
9. Remove the ATF magnet (U), clean and reinstall it in the torque converter housing (V).
10. Clean the inlet opening (A) of the ATF strainer (B) thoroughly with compressed air, t h e n check that it is in good condition and that the inlet opening is not clogged.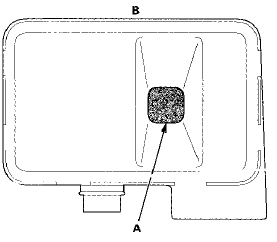 11. Test the ATF strainer by pouring clean ATF through the inlet opening, and replace it if it is clogged or damaged.
12. Remove the O-rings (W) (X) from the stator shaft and the ATF strainer. Install new ones when installing the valve bodies.
NOTE: This repair is only necessary if one or more of the valves in a valve body do not slide smoothly in their bores. Use this procedure to free the valves. 1. Soak a sheet of #600 abrasive pape ...
See also:
Crankshaft Main Bearing Replacement
Main Bearing Clearance Inspection 1. To check the main bearing-to-journal oil clearance, remove the lower block and the bearing halves (see page 7-14). 2. Clean each main journal and the bearing ...
Spotlights
Turn on a spotlight by pushing the lens. Push the lens again to turn it off. You can use the spotlights at all times. Except LX The spotlights have a two-position switch. In the DOOR pos ...
Rear Seat Cushion Cover Replacement
NOTE: -Put on gloves to protect your hands. - Take care not to tear or damage the seat covers. 1. Remove the seat cushion (see page 20-241). 2. From the back of the seat-back, release all th ...