Honda Accord: Brake System Indicator Circuit Diagram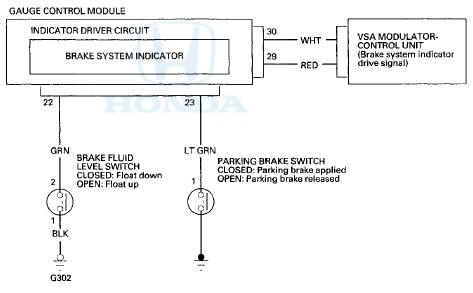 NOTE: - Do not reuse the drained fluid. Use only new Honda DOT 3 Brake Fluid from an unopened container. Using a non-Honda brake fluid can cause corrosion and shorten the life of the system. - ...
NOTE: if both the ABS/VSA indicator and the brake system indicator come on at the same time, check the VSA system for DTCs first (see page 19-48). 1. Remove the center console (see page 20-158). ...
See also:
Anti-lock Brakes (ABS)
The anti-lock brake system (ABS) helps prevent the wheels from locking up, and helps you retain steering control by pumping the brakes rapidly, much faster than a person can do it. The elec ...
Reverse Shift Fork Clearance Inspection
1. Measure the clearance between the reverse Idler gear (A) and the reverse shift fork (B) with a feeler gauge (C). If the clearance exceeds the service limit, go to step 2. Standard; 0.20-0.59 mm ...
Center Console Rear Trim Removal/Installation
Special Tools Required KTC Trim Tool Set SOJATP2014* *Available through the Honda Tool and Equipment Program; call 888-424-6857 NOTE: - Take care not to scratch the center console and the rela ...