Honda Accord: Brake System Indicator Circuit Diagram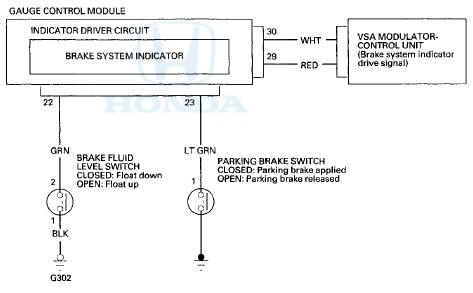 NOTE: - Do not reuse the drained fluid. Use only new Honda DOT 3 Brake Fluid from an unopened container. Using a non-Honda brake fluid can cause corrosion and shorten the life of the system. - ...
NOTE: if both the ABS/VSA indicator and the brake system indicator come on at the same time, check the VSA system for DTCs first (see page 19-48). 1. Remove the center console (see page 20-158). ...
See also:
TPMS (Tire Pressure Monitoring System)
Instead of directly measuring the pressure in each tire, the TPMS on this vehicle monitors and compares the rolling radius and rotational characteristics of each wheel and tire while you are dri ...
Inflation Guidelines
Keeping the tires properly inflated provides the best combination of handling, tread life, and riding comfort. Underinflated tires wear unevenly, adversely affect handling and fuel economy, ...
Expansion Valve Replacement
1. Remove the evaporator core (see page 21-67). 2. Remove the insulator (A) and bolts, then remove the expansion valve (B) and O-rings (C). 3. Install the expansion valve in the reverse order o ...