Honda Accord: Valve Body Valve Installation
1. Coat all parts with ATF before assembly.
2. Install the valves and the springs in the sequence shown for the main valve body (see page 14-277), the regulator valve body (see page 14-279), and the servo body (see page 14-280). Refer to the following valve cap illustrations, and install each valve cap so the end shown facing up will be facing the outside of the valve body.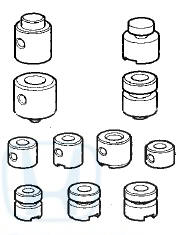 3. Install all the springs and the seats. Insert the spring (A) in the valve, then install the valve in the valve body (B) . Push the spring in using a screwdriver, then install the spring seat (C).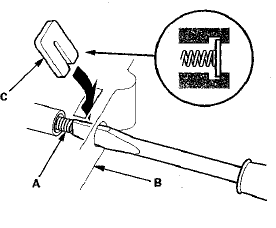 NOTE: This repair is only necessary if one or more of the valves in a valve body do not slide smoothly in their bores. Use this procedure to free the valves. 1. Soak a sheet of #600 abrasive pape ...
1. Clean all parts thoroughly in solvent, and dry them with compressed air. Blow out all passages. 2. Do not use a magnet to remove the check balls, it may magnetize the balls. 3. Inspect the ...
See also:
Door Position Adjustment
NOTE: Check for a flush fit with the body, then check for equal gaps between the front, rear, and bottom door edges and the body. Check that the door and body edges are parallel. 1. Place the ve ...
Rear Power Window Motor Test
1. Remove the rear power window switch (see page 22-307). 2. Test the motor in each direction by connecting battery power and ground to the rear power window switch 14P connector (A) according t ...
Compass Calibration
The compass may need to be manually calibrated after exposure to a strong magnetic field. If the compass seems to be continually showing the wrong direction and is not self-calibrating, or ...