Honda Accord: Backlash Inspection
1. Install both axles into the A/T differential, then place the axles on V-blocks.
2. Check the backlash of the pinion gears (A) using a dial indicator (B).
Standard: 0.05-0.15 mm (0.002-0.006 in)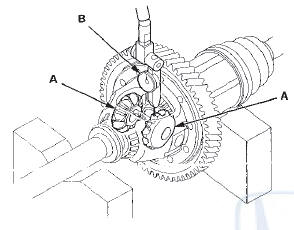 3. If the backlash is out of standard, replace the differential carrier (see page 14-329).
Special Tools Required Attachment, 40 x 50 mm 07LAD-PW50601 NOTE: -The bearing and the bearing outer race should be replaced as a set. -Inspect and adjust the carrier bearing preload wheneve ...
See also:
Slave Cylinder Replacement
NOTE: - Use fender covers to avoid damaging painted surfaces. - Do not spilt brake fluid on the vehicle; it may damage the paint or plastic. If brake fluid does contact the paint or plastic, wa ...
Washer Tube Replacemen
1. Remove the right front inner fender (see page 20-290). 2. Remove the windshield washer nozzles and clips, then remove the tubes. *1:USA models *2: Canada models 3. Install in the reverse or ...
Headlight Aiming
The headlights were properly aimed when your vehicle was new. If you regularly carry heavy items in the trunk or pull a trailer, readjustment may be required. Adjustments should be done by y ...