Honda Accord: Backlash Inspection
1. Install both axles into the A/T differential, then place the axles on V-blocks.
2. Check the backlash of the pinion gears (A) using a dial indicator (B).
Standard: 0.05-0.15 mm (0.002-0.006 in)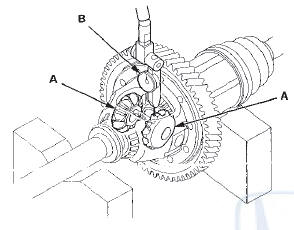 3. If the backlash is out of standard, replace the differential carrier (see page 14-329).
Special Tools Required Attachment, 40 x 50 mm 07LAD-PW50601 NOTE: -The bearing and the bearing outer race should be replaced as a set. -Inspect and adjust the carrier bearing preload wheneve ...
See also:
Slave Cylinder Replacement
NOTE: - Use fender covers to avoid damaging painted surfaces. - Do not spilt brake fluid on the vehicle; it may damage the paint or plastic. If brake fluid does contact the paint or plastic, wa ...
Driver's Outer Dashboard Trim Removal/Installation
Special Tools Required KTC Trim Tool Set SOJATP2014* *Available through the Honda Tool and Equipment Program; call 888-424-6857 NOTE: - Take care not to scratch the dashboard or the related pa ...
Protecting Larger Children
When a child reaches the recommended weight or height limit for a forward-facing child seat, the child should sit in a back seat on a booster seat and wear the lap/ shoulder belt. The follo ...