Honda Accord: Component Location Index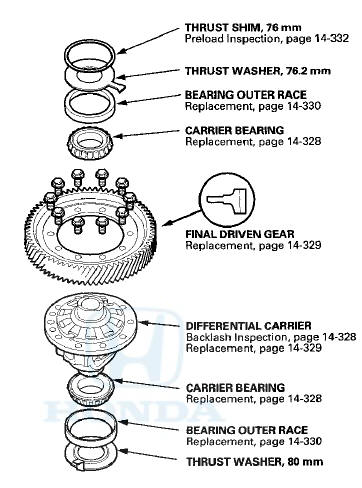 1. Install both axles into the A/T differential, then place the axles on V-blocks. 2. Check the backlash of the pinion gears (A) using a dial indicator (B). Standard: 0.05-0.15 mm (0.002-0.006 i ...
See also:
EVAP Canister Replacement
1. Raise the vehicle on a lift. 2. Remove the wheel sensor harness clamps (A) 3. Support the rear subframe with a transmission jack and a wooden block as shown. 4. Remove the rear subframe m ...
General Information
When using CD-R or CD-RW discs, use only high quality discs labeled for audio use. When recording a CD-R or CD-RW, the recording must be closed for it to be used by the disc changer. Play ...
To Play the Radio
The band and frequency that the radio was last tuned to are displayed. To change bands, press the AM or FM button. On the FM band, ST will be displayed if the station is broadcasting in stere ...