Honda Accord: Main Valve Body Disassembly, Inspection, and Reassembly
1. Clean all parts thoroughly in solvent, and dry them with compressed air. Blow out all passages.
2. Do not use a magnet to remove the check balls, it may magnetize the balls.
3. Inspect the valve body for scoring and damage.
4. Check all valves for free movement. If any fail to slide freely, do the valve body repair procedure (see page 14-275).
5. Coat all parts with ATF during assembly.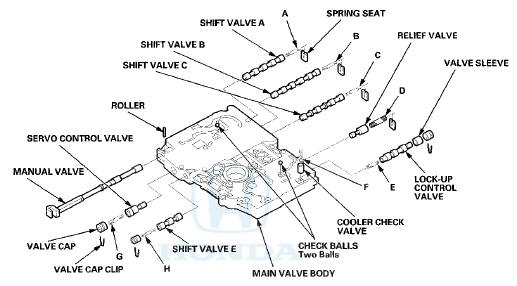 SPRING SPECIFICATIONS

1. Coat all parts with ATF before assembly. 2. Install the valves and the springs in the sequence shown for the main valve body (see page 14-277), the regulator valve body (see page 14-279), and ...
1. Install the ATF pump drive gear (A), the driven gear (B), and the ATF pump driven gear shaft (C) in the main valve body (D). Lubricate all parts with ATF, and install the ATF pump driven gear wi ...
See also:
Front Door Sash Outer Trim Replacement
NOTE: - Take care not to scratch the door. - 4-door is shown; 2-door is similar. 1. Remove the door outer molding (see page 20-36). 2. Pull up the door sash outer trim (A) to release the ho ...
Clutch Wave-plate Phase Difference Inspection
1. Place the clutch wave-plate (A) on a surface plate, and set a dial indicator (B) on the wave-plate. 2. Find the bottom (C) of a phase difference of the wave-plate, zero the dial indicator an ...
Body Electrical
Special Tools General Troubleshooting Information Tips and Precautions Special Tools Required Back Probe Adapter, 17 mm 07TAZ-001020A 1. Check applicable fuses in the appropriate fuse/relay ...