Honda Accord: Main Valve Body Disassembly, Inspection, and Reassembly
1. Clean all parts thoroughly in solvent, and dry them with compressed air. Blow out all passages.
2. Do not use a magnet to remove the check balls, it may magnetize the balls.
3. Inspect the valve body for scoring and damage.
4. Check all valves for free movement. If any fail to slide freely, do the valve body repair procedure (see page 14-275).
5. Coat all parts with ATF during assembly.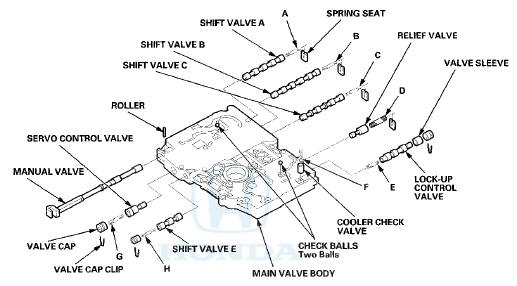 SPRING SPECIFICATIONS

1. Coat all parts with ATF before assembly. 2. Install the valves and the springs in the sequence shown for the main valve body (see page 14-277), the regulator valve body (see page 14-279), and ...
1. Install the ATF pump drive gear (A), the driven gear (B), and the ATF pump driven gear shaft (C) in the main valve body (D). Lubricate all parts with ATF, and install the ATF pump driven gear wi ...
See also:
Fog Lights
When the low beam headlights are on, turn the fog light switch on to use the fog lights. When the fog lights are on, the indicator in the instrument panel will be on. They go off when the head ...
Checking the Battery
Check the battery condition monthly. Look at the test indicator window and check the terminals for corrosion. The battery condition is being monitored by the sensor on the negative terminal. ...