Honda Accord: Main Valve Body Disassembly, Inspection, and Reassembly
1. Clean all parts thoroughly in solvent, and dry them with compressed air. Blow out all passages.
2. Do not use a magnet to remove the check balls, it may magnetize the balls.
3. Inspect the valve body for scoring and damage.
4. Check all valves for free movement. If any fail to slide freely, do the valve body repair procedure (see page 14-275).
5. Coat all parts with ATF during assembly.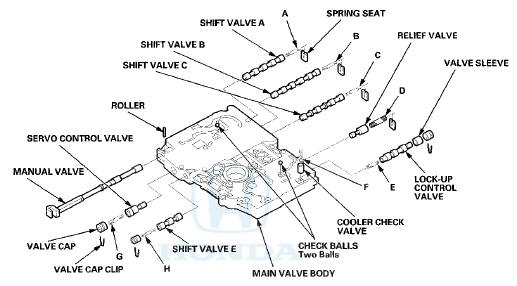 SPRING SPECIFICATIONS

1. Coat all parts with ATF before assembly. 2. Install the valves and the springs in the sequence shown for the main valve body (see page 14-277), the regulator valve body (see page 14-279), and ...
1. Install the ATF pump drive gear (A), the driven gear (B), and the ATF pump driven gear shaft (C) in the main valve body (D). Lubricate all parts with ATF, and install the ATF pump driven gear wi ...
See also:
Moonroof
If equipped The moonroof can be tilted up in the back for ventilation, or it can be slid back into the roof. Use the switch on the front ceiling to operate the moonroof. You must turn the ...
Valve, Spring, and Valve Seal Removal
Special Tools Required Valve Spring Compressor Attachment 07757-PJ1010A Identify the valves and the valve springs as they are removed so that each item can be reinstalled in its original position. ...
Information Display
Information Display The information display shows the odometer, trip meter, engine oil life, outside temperature (if equipped), and maintenance item code(s). To switch the display, press and ...