Honda Accord: Main Valve Body Disassembly, Inspection, and Reassembly
1. Clean all parts thoroughly in solvent, and dry them with compressed air. Blow out all passages.
2. Do not use a magnet to remove the check balls, it may magnetize the balls.
3. Inspect the valve body for scoring and damage.
4. Check all valves for free movement. If any fail to slide freely, do the valve body repair procedure (see page 14-275).
5. Coat all parts with ATF during assembly.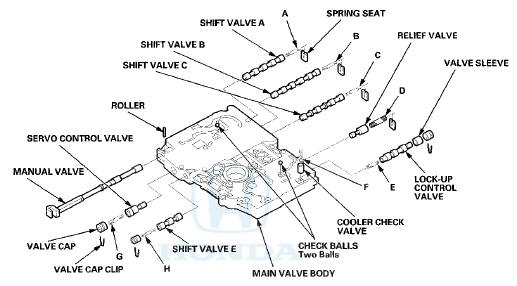 SPRING SPECIFICATIONS

1. Coat all parts with ATF before assembly. 2. Install the valves and the springs in the sequence shown for the main valve body (see page 14-277), the regulator valve body (see page 14-279), and ...
1. Install the ATF pump drive gear (A), the driven gear (B), and the ATF pump driven gear shaft (C) in the main valve body (D). Lubricate all parts with ATF, and install the ATF pump driven gear wi ...
See also:
Symptom Troubleshooting Index
When the vehicle has one of these symptoms, check for a diagnostic trouble code (DTC) with the HDS. If there is no DTC, do the diagnostic procedure for the symptom, in the sequence listed, until yo ...
DTC Troubleshooting
DTC P0506: idle Control System RPM Lower Than Expected NOTE: Before you troubleshoot record all freeze data and any on-board snapshot, and review the general troubleshooting information (see page ...