Honda Accord: To Play a Disc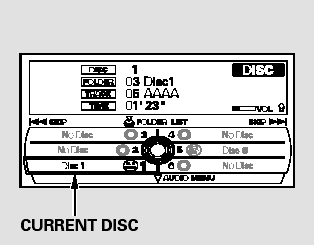 Select the changer by pressing the CD button. The system will begin playing the last selected disc in the disc changer. You will see the current disc position highlighted.
To select a different disc, press the corresponding number on the preset buttons, or turn the interface knob to highlight the desired disc number, then press ENTER on the interface selector.
The player can play CD-TEXT, MP3, andWMA formats.
When you play CD-TEXT, you will see the track name, artist name, and album name on the screen. When you play MP3/WMA discs, you will see the track name and folder name on the screen. If the disc was not recorded with this information, it will not be displayed.