Honda Accord: Servo Body Disassembly, Inspection, and Reassembly
1. Clean all parts thoroughly in solvent, and dry them with compressed air. Blow out all passages.
2. Inspect the valve body for scoring and damage.
3. Check shift valve D for free movement. If it fails to slide freely, do the valve body repair procedure (see page 14-275).
4. When removing and installing the shift solenoid valves, refer to the shift solenoid valves removal and installation (see page 14-281).
5. Coat all parts with ATF during assembly.
6. Replace the O-rings with new ones.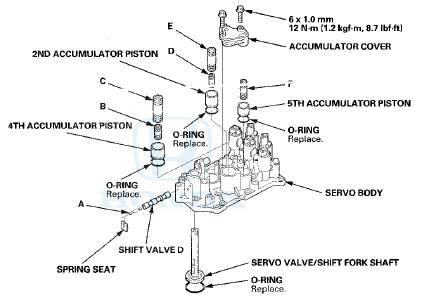 SPRING SPECIFICATIONS