Honda Accord: Lower Arm B Replacement
1 Raise and support the vehicle (see page 1-13).
2. Remove the rear wheel.
3. Remove the lower arm B mounting bolts, then remove lower arm B.
NOTE: Use new mounting bolts during reassembly.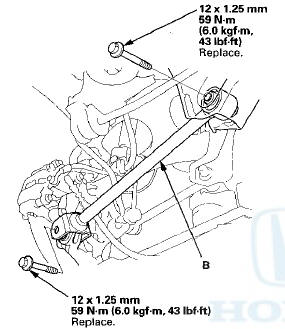 4. Install lower arm B in the reverse order of removal, and note these items: - First install all of the components, and lightly tighten the bolts, then raise the suspension to load it with the vehicle's weight before fully tightening to the specified torque.
- Make sure the clearance between lower arm B and the parking brake cable is more than 5 mm (0.2 in).
- Before installing the wheel, clean the mating surfaces on the brake disc and the inside of the wheel.
5. Check the wheel alignment, and adjust it if necessary (see page 18-5).