Honda Accord: Stabilizer Link Removal/Installation
1. Raise and support the vehicle (see page 1 -13).
2. Remove the rear wheel.
3. Remove the flange nut (A) and the self-locking nut (B) while holding the respective joint pin (C) with a hex wrench (D), then remove the stabilizer link (E).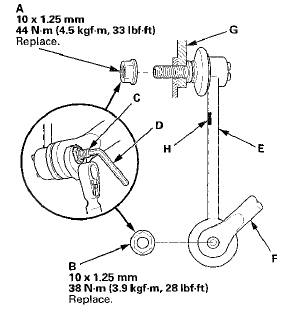 4. Install the stabilizer link on the stabilizer bar (F) and the knuckle adding in the brake hose bracket (G) with the joint pins set at the center of their range of movement.
NOTE: - The stabilizer link has a paint mark (H). The paint mark indicates the difference between the left and right stabilizer links.
- Install the end of the stabilizer link with the paint mark in the upper position.
5. Install the flange nut and the new self-locking nut, and tighten them to the specified torque while holding the respective joint pin with a hex wrench.
6. Clean the mating surfaces of the brake disc and the inside of the wheel, then install the rear wheel.
7. Test-drive the vehicle.
8. After 5 minutes of driving, tighten the self-locking nut again to the specified torque.