Honda Accord: Stabilizer Bar Replacement
1. Raise and support the vehicle (see page 1-13).
2. Remove the rear wheels.
3. Disconnect both stabilizer links from the stabilizer bar (see page 18-47).
4. Remove the flange bolts (A) and the bushing holders (B), then remove the bushings (C) and the stabilizer bar (D).
NOTE: During installation, align the paint marks (E) on the stabilizer bar with the side of the bushings.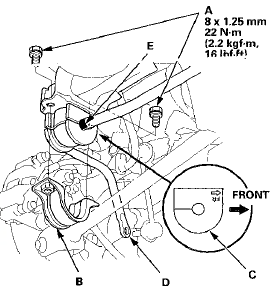 5. Install the stabilizer bar in the reverse order of removal, and note these items: - Note the right and left direction of the stabilizer bar.
- Note the direction of installation for the bushing.
- Refer to the stabilizer link removal/installation to connect the stabilizer bar to the links (see page 18-47).
- Before installing the wheel, clean the mating surfaces of the brake disc and the inside of the wheel.