Honda Accord: Front Passenger's Weight Sensor Output Check After a Vehicle Collision
1. Position the front passenger's seat to the rear most position, and adjust the seat-back to the forward most position. Do not move the seat from this position.
2. Drive the vehicle, accelerate to 20 mph (36 km/h), then stop on level ground.
3. Make sure the ignition switch is in LOCK (0).
4. Connect the HDS to the data link connector (DLC) (A).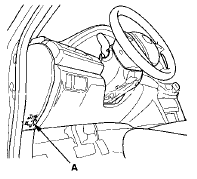 5. Turn the ignition switch to ON (II).
6. Make sure the HDS communicates with the vehicle and the SRS unit. If it does not communicate, troubleshoot the DLC circuit (see page 11-181).
7. From the HDS Main Menu, select SRS, then Inspection. In the Inspection Menu, select SEAT OUTPUT CHECK. Follow the prompts until the front passenger's weight sensor output check has been completed.
8. Turn the ignition switch to LOCK (0).
9. Disconnect the HDS from the DLC.