Honda Accord: Cam Chain Case Oil Seal Installatio
Special Tools Required
Driver Handle, 15 x 135L 07749-0010000
Attachment, 52 x 55 mm 07746-0010400
1. Clean and dry the crankshaft oil seal.
2. Apply a light coat of new engine oil to the lip of the chain case oil seal.
3. Use the driver handle, 15 x 135L and the attachment, 52 x 55 mm to drive a new oil seal squarely into the chain case to the specified installed height.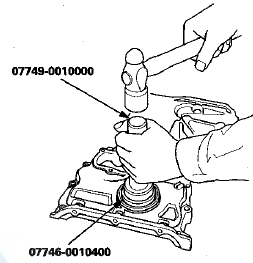 4. Measure the distance between the chain case surface (A) and the oil seal (B).
Oil Seal Installed Height:
32.4-33.1 mm (1.28-1.30 in)