Honda Accord: ATF Filter Replacement
NOTE: The ATF filter is not a scheduled maintenance item. Replace the filter only if it is leaking, or contaminated, or when the transmission is being overhauled or replaced with a remanufactured unit.
1. Raise the vehicle on a lift, or apply the parking brake, block the rear wheels, and raise the front of the vehicle. Make sure it is securely supported.
2. Remove the splash shield. 3. Remove the drain plug (A), and drain the ATF.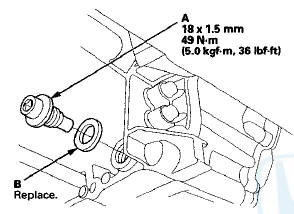 4. Reinstall the drain plug with a new sealing washer (B).
5. Disconnect the ATF cooler hoses (A) from the ATF filter (B).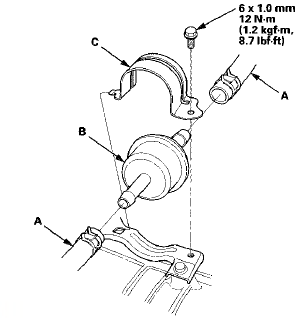 6. Remove the ATF filter holder (C).
7. Replace the ATF filter, then secure it with the ATF filter holder and the bolt.
8. Connect the ATF cooler hoses to the ATF filter, and secure the hoses with the clips (see page 14-220).
9. Install the splash shield.
10. Refill the transmission with ATF (see step 4 on page 14-192).