Honda Accord: Air Cleaner Removal/Installation
1. Disconnect the MAF sensor/IAT sensor connector (A).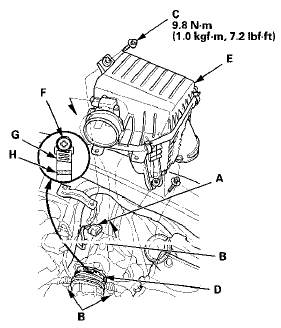 2. Remove the harness clamps (B) and the bolts (C).
3. Loosen the band (D), then remove the air cleaner housing (E).
4. Install the parts in the reverse order of removal.
NOTE: When torqueing the screw of the hose band (F), align the edge of the hose band (G) with the mark (H) painted on the hose band.