Honda Accord: Air Cleaner Element Inspection / Replacement
1. Open the air cleaner housing cover (A).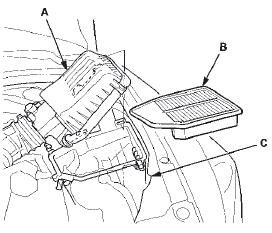 2. Remove the air cleaner element (B) from the air cleaner housing (C).
3. Check the air cleaner element for damage or clogging.
If it is damaged or clogged, replace it.
NOTE: Do not use compressed air to clean the air cleaner element.
4. Clean and remove any debris from inside the air cleaner.
5. Install the parts in the reverse order of removal.
- If you did not replace the air cleaner element, this procedure is complete.
- If the maintenance minder required air cleaner replacement, reset the maintenance minder (see page 3-7).
- If the idle speed fluctuates, do the idle speed inspection (see page 11-292).