Honda Accord: Vanity Mirror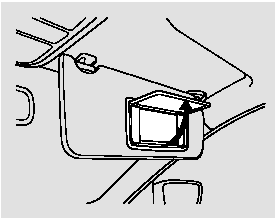 To use the vanity mirror on the back of the sun visor, pull up the cover.
The vanity mirror lights come on when you pull up the cover.
To use the sun visor, pull it down. When using the sun visor for the side window, remove the support rod from the clip, and swing it out. In this position, the sun visor can be adjusted by m ...
To open the sunglasses holder, push then release the indent. It will unlatch and swing down. To close it, push it until it latches. Make sure the holder is closed while you are driving. S ...
See also:
Voice Control Operation
Your vehicle has a voice control system that allows hands-free operation of most of the navigation system functions. The voice control system uses the (Talk) and (hang-up/back) buttons on ...
Clutch Hose Replacement
NOTE: - Replace the clutch hose if it is twisted, cracked, or leaks. - Use fender covers to avoid damaging painted surfaces. - Do not spill brake fluid on the vehicle; it may damage the pain ...
Horn Switch Test
NOTE: Check for a blown No. 10 (20 A) fuse in the under-hood fuse/relay box. If it is blown, check for a faulty horn relay. 1. Turn the steering wheel 180 degrees from the center position and re ...