Honda Accord: Vanity Mirror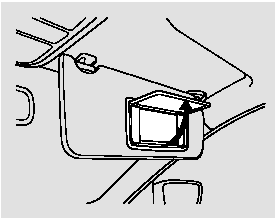 To use the vanity mirror on the back of the sun visor, pull up the cover.
The vanity mirror lights come on when you pull up the cover.
To use the sun visor, pull it down. When using the sun visor for the side window, remove the support rod from the clip, and swing it out. In this position, the sun visor can be adjusted by m ...
To open the sunglasses holder, push then release the indent. It will unlatch and swing down. To close it, push it until it latches. Make sure the holder is closed while you are driving. S ...