Honda Accord: Vanity Mirror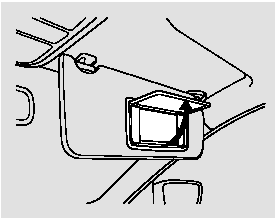 To use the vanity mirror on the back of the sun visor, pull up the cover.
The vanity mirror lights come on when you pull up the cover.
To use the sun visor, pull it down. When using the sun visor for the side window, remove the support rod from the clip, and swing it out. In this position, the sun visor can be adjusted by m ...
To open the sunglasses holder, push then release the indent. It will unlatch and swing down. To close it, push it until it latches. Make sure the holder is closed while you are driving. S ...
See also:
Symptom Troubleshooting
Immobilizer Indicator blinks NOTE; Before troubleshooting, check the Items listed In "General Check before Troubleshooting". 1. Turn the ignition switch to LOCK (0). 2. Connect the H ...
Lower Arm B Replacement
1 Raise and support the vehicle (see page 1-13). 2. Remove the rear wheel. 3. Remove the lower arm B mounting bolts, then remove lower arm B. NOTE: Use new mounting bolts during reassembly. ...
A/T Clutch Pressure Control Solenoid Valve B and C Test
1. Connect the HDS to the DLC (A) located under the driver's side of the dashboard. 2. Turn the ignition switch to ON (II). Make sure the HDS communicates with the PCM. If it does not, go to the ...