Honda Accord: Vanity Mirror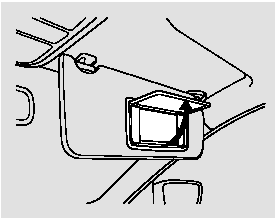 To use the vanity mirror on the back of the sun visor, pull up the cover.
The vanity mirror lights come on when you pull up the cover.
To use the sun visor, pull it down. When using the sun visor for the side window, remove the support rod from the clip, and swing it out. In this position, the sun visor can be adjusted by m ...
To open the sunglasses holder, push then release the indent. It will unlatch and swing down. To close it, push it until it latches. Make sure the holder is closed while you are driving. S ...
See also:
Transmission Reassembly
NOTE: Prior to reassembly, clean all the parts in solvent, dry them, and apply MTF to any contact surfaces. 1. Install the magnet (A) and the differential assembly (B). NOTE: Clean the magnet ...
To Stop Playing a Disc
To take the system out of disc mode, press the FM/AM button, the button, or the AUX button (if an appropriate unit is connected). To return to disc mode, press the CD button. You can also ...
Mode Control Motor Test
NOTE: Before testing the motor, check for HVAC DTCs (see page 21-101). 1. Disconnect the 7P connector from the mode control motor. Incorrectly applying power and ground to the mode control mo ...