Honda Accord: Vanity Mirror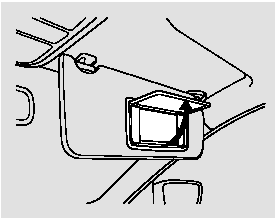 To use the vanity mirror on the back of the sun visor, pull up the cover.
The vanity mirror lights come on when you pull up the cover.
To use the sun visor, pull it down. When using the sun visor for the side window, remove the support rod from the clip, and swing it out. In this position, the sun visor can be adjusted by m ...
To open the sunglasses holder, push then release the indent. It will unlatch and swing down. To close it, push it until it latches. Make sure the holder is closed while you are driving. S ...
See also:
Electrical Compass Unit Input Test
1. Remove the rear shelf (see page 20-128). 2. Loosen the bolts (A), then pull out the electrical compass unit bracket (B). 3. Disconnect the 6P connector (C) and remove the mounting bolt ( D ) ...
Tire Pressure Monitoring System (TPMS) - Required Federal Explanation
Each tire, including the spare (if provided), should be checked monthly when cold and inflated to the inflation pressure recommended by the vehicle manufacturer on the vehicle placard or tir ...
Tire Pressure Monitoring System (TPMS)
Your vehicle is equipped with a tire pressure monitoring system (TPMS) that turns on every time you start the engine and monitors the pressure in your tires while driving. Each tire has its o ...