Honda Accord: Vanity Mirror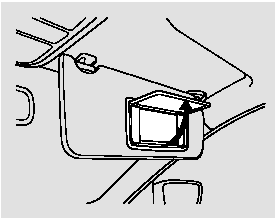 To use the vanity mirror on the back of the sun visor, pull up the cover.
The vanity mirror lights come on when you pull up the cover.
To use the sun visor, pull it down. When using the sun visor for the side window, remove the support rod from the clip, and swing it out. In this position, the sun visor can be adjusted by m ...
To open the sunglasses holder, push then release the indent. It will unlatch and swing down. To close it, push it until it latches. Make sure the holder is closed while you are driving. S ...
See also:
Fuel Gauge
This shows how much fuel you have. It may show slightly more or less than the actual amount. The needle returns to the bottom after you turn off the ignition. Avoid driving with an extremely ...
Rear Seat Access Cable Replacement
2-door Passenger's Seat NOTE: - Put on gloves to protect your hands. - Take care not to kink the rear seat access cable. - The right rear seat access cable is shown; the left rear seat access ...
Switch Test/Replacement
1. Remove the center console panel (see page 20-157). 2. Disconnect the 6P (or 7P*) connector from the seat heater switch, then remove the switch. *: Front passenger's seat heater switch 3. ...