Honda Accord: Sunglasses Holder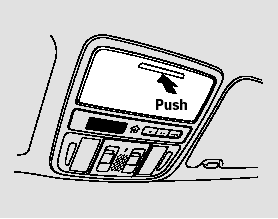 To open the sunglasses holder, push then release the indent. It will unlatch and swing down. To close it, push it until it latches. Make sure the holder is closed while you are driving.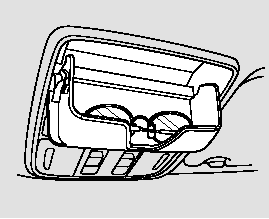 Some larger styles of sunglasses may not fit in the holder.
You may also store small items in this holder. Make sure they are small enough to let the holder close and latch, and that they are not heavy enough to cause the holder to pop open while driving.
To use the vanity mirror on the back of the sun visor, pull up the cover. The vanity mirror lights come on when you pull up the cover. ...
To use a coat hook, pull it down. Close it with a firm push. Make sure the coat hook is closed when you are not using it. This hook is not designed for large or heavy items. ...
See also:
Synthetic Oil
You may use a synthetic motor oil if it meets the same requirements given for a conventional motor oil: it displays the API Certification Seal, and it is the proper weight. You must follow t ...
Piston, Pin, and Confyssfeg EQC Replacement
Disassembly 1. Remove the piston from the engine block (see page 7-14). 2. Apply new engine oil to the piston pin snap rings (A), and turn them in the ring grooves until the end gaps are lined ...