Honda Accord: Sunglasses Holder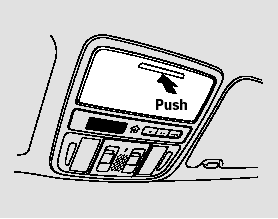 To open the sunglasses holder, push then release the indent. It will unlatch and swing down. To close it, push it until it latches. Make sure the holder is closed while you are driving.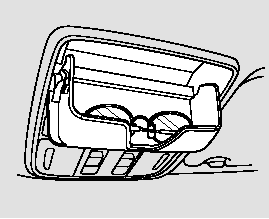 Some larger styles of sunglasses may not fit in the holder.
You may also store small items in this holder. Make sure they are small enough to let the holder close and latch, and that they are not heavy enough to cause the holder to pop open while driving.
To use the vanity mirror on the back of the sun visor, pull up the cover. The vanity mirror lights come on when you pull up the cover. ...
To use a coat hook, pull it down. Close it with a firm push. Make sure the coat hook is closed when you are not using it. This hook is not designed for large or heavy items. ...
See also:
EVAP Canister Vent Shut Valve Replacement
1 o Disconnect the EVAP canister vent shut valve 2P connector (A). 2. Remove the cap (B). 3. Remove the EVAP canister vent shut valve (C). 4. Install the parts in the reverse order of remova ...
Clutch Pedal Assembly Replacement
1. Disconnect the clutch pedal position switch connector (A) and the clutch interlock switch connector (B). 2. Pry out the lock pin (C), and pull the clevis pin (D) out of the clevis. 3. Remov ...
Wear Indicators
The groove where the wear indicator is located is 1/16 inch (1.6 mm) shallower than elsewhere on the tire. If the tread has worn so that the indicator is exposed, replace the tire. Worn out ...