Honda Accord: VTC Actuator Inspection
1. Remove the cam chain (see page 6-62).
2. Loosen the rocker arm adjusting screws (see step 2 on page 6-81).
3. Remove the camshaft holder (see step 3 on page 6-81).
4. Remove the intake camshaft.
5. Check that the variable valve timing control (VTC) actuator is locked by turning the VTC actuator counterclockwise. If it is not locked, turn the VTC actuator clockwise until it stops, then recheck it. If it is still not locked, replace the VTC actuator.
6. Seal the retard holes (A) in the No. 1 camshaft journal with tape and a wire tie.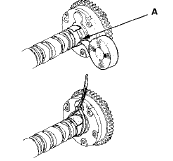 7. Seal one of the advance holes (A) with tape.

8. Apply air to the unsealed advance hole to release the lock.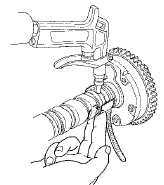 9. Check that the VTC actuator moves smoothly. If the VTC actuator does not move smoothly, replace the VTC actuator.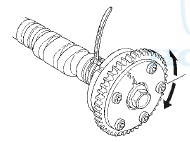 10. Remove the wire tie, the tape, and the adhesive residue from the No. 1 camshaft journal.
11. Make sure the punch marks on the VTC actuator and the exhaust camshaft sprocket are facing up, then set the camshafts in the cylinder head (see step 7 on page 6-93).
12. Set the camshaft holders and cam chain guide B in place (see step 8 on page 6-93).
13. Tighten the camshaft holder bolts to the specified torque (see step 9 on page 6-93).
14. Hold the camshaft, and turn the VTC actuator clockwise until you hear it click. Make sure to lock the VTC actuator by turning it.
15. Install the cam chain (see page 6-64).
16. Adjust the valve clearance (see page 6-58).
Special Tools Required . VTEC Air Stopper 07ZAJ-PNAA200 . VTEC Air Adapter 07ZAJ-PNAA101 (2) . Air Joint Adapter 07ZAJ-PNAA300 - Air Pressure Regulator 07AAJ-PNAA101 1. Start the engine, and let ...
Special Tools Required . Locknut Wrench 07MAA-PR70120 . Adjuster 07MAA-PR70110 NOTE: Connect the Honda Diagnostic System (HDS) to the data link connector (DLC) and monitor the engine coolant temp ...
See also:
ECT Sensor 1 Replacement
1. Drain the engine coolant (see page 10-6). 2. Disconnect the ECT sensor 1 connector (A). 3. Remove ECT sensor 1 (B). 4. Install the parts in the reverse order of removal with a new O-ring ...
Side Sill Protection Tape Replacement
2-door 1. Slowly remove the old side sill protection tape. 2. Clean the body bonding surface with a shop towel dampened in isopropyl alcohol. After cleaning, keep oil, grease, and water from get ...
System Description
The air conditioning (A/C) system removes heat from the passenger compartment by transferring heat from the ambient air to the evaporator. The A/C system refrigerant expands in the evaporator, and ...