Honda Accord: VTC Actuator Inspection
1. Remove the cam chain (see page 6-62).
2. Loosen the rocker arm adjusting screws (see step 2 on page 6-81).
3. Remove the camshaft holder (see step 3 on page 6-81).
4. Remove the intake camshaft.
5. Check that the variable valve timing control (VTC) actuator is locked by turning the VTC actuator counterclockwise. If it is not locked, turn the VTC actuator clockwise until it stops, then recheck it. If it is still not locked, replace the VTC actuator.
6. Seal the retard holes (A) in the No. 1 camshaft journal with tape and a wire tie.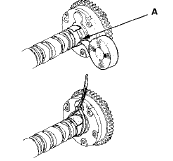 7. Seal one of the advance holes (A) with tape.

8. Apply air to the unsealed advance hole to release the lock.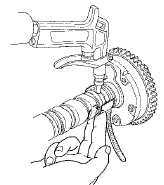 9. Check that the VTC actuator moves smoothly. If the VTC actuator does not move smoothly, replace the VTC actuator.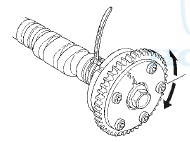 10. Remove the wire tie, the tape, and the adhesive residue from the No. 1 camshaft journal.
11. Make sure the punch marks on the VTC actuator and the exhaust camshaft sprocket are facing up, then set the camshafts in the cylinder head (see step 7 on page 6-93).
12. Set the camshaft holders and cam chain guide B in place (see step 8 on page 6-93).
13. Tighten the camshaft holder bolts to the specified torque (see step 9 on page 6-93).
14. Hold the camshaft, and turn the VTC actuator clockwise until you hear it click. Make sure to lock the VTC actuator by turning it.
15. Install the cam chain (see page 6-64).
16. Adjust the valve clearance (see page 6-58).
Special Tools Required . VTEC Air Stopper 07ZAJ-PNAA200 . VTEC Air Adapter 07ZAJ-PNAA101 (2) . Air Joint Adapter 07ZAJ-PNAA300 - Air Pressure Regulator 07AAJ-PNAA101 1. Start the engine, and let ...
Special Tools Required . Locknut Wrench 07MAA-PR70120 . Adjuster 07MAA-PR70110 NOTE: Connect the Honda Diagnostic System (HDS) to the data link connector (DLC) and monitor the engine coolant temp ...
See also:
Alternator Overhaul
Exploded View Special Tools Required - Driver Handle, 15 x 135L 07749-0010000 - Bearing Driver Attachment, 42 x 47 mm 07746-0010300 NOTE: Refer to the Exploded View as needed during this proced ...
Braking System Design
The hydraulic system that operates the brakes has two separate circuits. Each circuit works diagonally across the vehicle (the left-front brake is connected with the right-rear brake, etc.). ...
Fastening a Seat Belt
After adjusting a front seat to the proper position, and while sitting upright and well back in the seat: 2 Adjusting the Seats P. 148 1. Pull the seat belt out slowly. 2. Insert the latch ...