Honda Accord: Sun Visor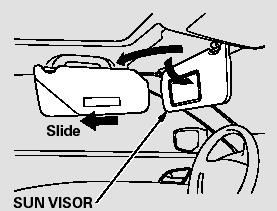 To use the sun visor, pull it down.
When using the sun visor for the side window, remove the support rod from the clip, and swing it out.
In this position, the sun visor can be adjusted by moving it on its slider.
Do not use the extended sun visor over the inside mirror.
Make sure you put the sun visor back in place when you are getting into or out of the vehicle.
Your vehicle has two accessory power sockets; one is at the front of the center console and the other is in the console compartment. To use an accessory power socket, the ignition switch mu ...
To use the vanity mirror on the back of the sun visor, pull up the cover. The vanity mirror lights come on when you pull up the cover. ...
See also:
Engine Coolant
This coolant is premixed with 50% antifreeze and 50% water. Do not add any straight antifreeze or water. We recommend you check the engine coolant level every time you refuel. Check the reser ...
Wiper Motor Test
4-door 1. Remove the driver's side wiper arm (see page 22-321). 2. Remove the left side cowl cover (see page 22-321). 3. Disconnect 5P connector (A) from the windshield wiper motor (B). 4. ...