Honda Accord: Sun Visor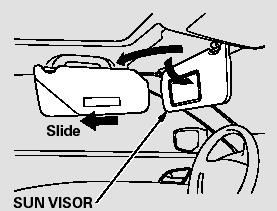 To use the sun visor, pull it down.
When using the sun visor for the side window, remove the support rod from the clip, and swing it out.
In this position, the sun visor can be adjusted by moving it on its slider.
Do not use the extended sun visor over the inside mirror.
Make sure you put the sun visor back in place when you are getting into or out of the vehicle.
Your vehicle has two accessory power sockets; one is at the front of the center console and the other is in the console compartment. To use an accessory power socket, the ignition switch mu ...
To use the vanity mirror on the back of the sun visor, pull up the cover. The vanity mirror lights come on when you pull up the cover. ...
See also:
Front Seat Frame Replacement Driver's Seat
Special Tools Required KTC Trim Tool Set SOJATP2014* *Available through the Honda Tool and Equipment Program; call 888-424-6857 SRS components are located in this area. Review the SRS component ...
Voice Control Operation
Your vehicle has a voice control system that allows hands-free operation of most of the navigation system functions. The voice control system uses the (Talk) and (hang-up/back) buttons on ...
CMP Sensor B Replacement
1. Disconnect the connector (A) and hoses (B) from the EVAP canister purge valve (C), then remove the EVAP canister purge valve assembly. 2. Disconnect the CMP sensor B connector (A). 3. Remov ...