Honda Accord: Sun Visor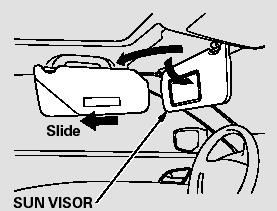 To use the sun visor, pull it down.
When using the sun visor for the side window, remove the support rod from the clip, and swing it out.
In this position, the sun visor can be adjusted by moving it on its slider.
Do not use the extended sun visor over the inside mirror.
Make sure you put the sun visor back in place when you are getting into or out of the vehicle.
Your vehicle has two accessory power sockets; one is at the front of the center console and the other is in the console compartment. To use an accessory power socket, the ignition switch mu ...
To use the vanity mirror on the back of the sun visor, pull up the cover. The vanity mirror lights come on when you pull up the cover. ...
See also:
Trunk Lid Adjustment
1. Remove the rear shelf (see page 20-128). 2. Pry up the notches (A) to release the rear hooks (B), and pull up the cap (C) to release the side hooks (D), then remove the cap. 3. Slightly lo ...
Interior Light Switch Test/Replacement
With moonroof NOTE: The Interior light switch is built into the moonroof switch, and it switches the front individual map light OFF and DOOR positions. 1. Remove the front individual map lights ...
Power Door Mirrors
You can adjust the door mirrors when the ignition switch is in ON . • Mirror position adjustment L/R selector switch: Select the left or right mirror. After adjusting the mirror, return the ...