Honda Accord: Sun Visor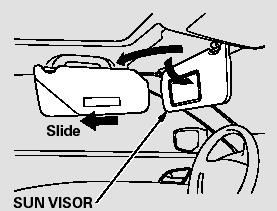 To use the sun visor, pull it down.
When using the sun visor for the side window, remove the support rod from the clip, and swing it out.
In this position, the sun visor can be adjusted by moving it on its slider.
Do not use the extended sun visor over the inside mirror.
Make sure you put the sun visor back in place when you are getting into or out of the vehicle.
Your vehicle has two accessory power sockets; one is at the front of the center console and the other is in the console compartment. To use an accessory power socket, the ignition switch mu ...
To use the vanity mirror on the back of the sun visor, pull up the cover. The vanity mirror lights come on when you pull up the cover. ...
See also:
Cleaning the Seat Belts
If your seat belts get dirty, use a soft brush with a mixture of mild soap and warm water to clean them. Do not use bleach, dye, or cleaning solvents. Let the belts air dry before you use ...
Adjusting the Sound
1. Press the SETTINGS button. 2. Rotate to select Audio Settings, then press . 3. Rotate to select Sound, then press . Rotate to scroll through the following choices: The SVC ...
Checking the Engine
If the engine does not start, check the starter. If you must start the vehicle immediately, use an assisting vehicle to jump start it. ...