Honda Accord: Trunk Lid Weatherstrip Replacement
NOTE: 4-door Is shown; 2-door Is similar.
1. Remove the trunk lid weatherstrip (A) by pulling it off.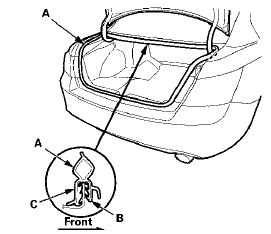 2. Locate the painted alignment mark (B or C) on the trunk lid weatherstrip. Align the painted mark in the center of the trunk lid opening, and install the weatherstrip all the way around in the direction shown. Make sure there are no wrinkles in the weatherstrip.
3. Check for water leaks (see step 9 on page 20-57).
Special Tools Required Torsion Bar Assembly Tool 07AAF-SNAA100 1. Remove the trunk lid torsion bars (A) from the torsion bar center clip (B). 3. Remove the torsion bar center clip (A) from the ...
1. Remove the trunk lid cushion (A) by pulling it out to detach the clips. 2. Replace the trunk lid cushion with a new one. 3. Install the trunk lid cushion by pushing on the clip areas until ...
See also:
iPod Error Messages (Models with navigation system)
If you see an error message in the center display while playing an iPod, find the solution in the chart to the right. If you cannot clear the error message, take your vehicle to your dealer. ...
Oil Pump Overhaul
Exploded View Oil Pump Removal 1. Turn the crankshaft pulley so its top dead center (TDC) mark (A) lines up with the pointer (B). NOTE: The other pointer (C) is not used. 2. Remove the oil ...
Clutch Replacement
Special Tools Required - Clutch Alignment Disc 07JAF-PM7011A - Ring Gear Holder 07LAB-PV00100 or 07924-PD20003 - Clutch Alignment Tool Set 07PAF-0020000 - Clutch Alignment ...