Honda Accord: Trunk Lid Weatherstrip Replacement
NOTE: 4-door Is shown; 2-door Is similar.
1. Remove the trunk lid weatherstrip (A) by pulling it off.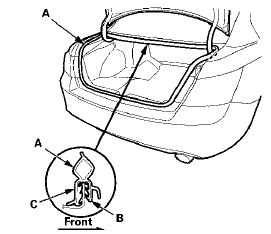 2. Locate the painted alignment mark (B or C) on the trunk lid weatherstrip. Align the painted mark in the center of the trunk lid opening, and install the weatherstrip all the way around in the direction shown. Make sure there are no wrinkles in the weatherstrip.
3. Check for water leaks (see step 9 on page 20-57).
Special Tools Required Torsion Bar Assembly Tool 07AAF-SNAA100 1. Remove the trunk lid torsion bars (A) from the torsion bar center clip (B). 3. Remove the torsion bar center clip (A) from the ...
1. Remove the trunk lid cushion (A) by pulling it out to detach the clips. 2. Replace the trunk lid cushion with a new one. 3. Install the trunk lid cushion by pushing on the clip areas until ...
See also:
Backlash Inspection
1. Install both axles into the A/T differential, then place the axles on V-blocks. 2. Check the backlash of the pinion gears (A) using a dial indicator (B). Standard: 0.05-0.15 mm (0.002-0.006 i ...
Track Scan
When you press the SCAN side of the SCAN/A. SEL bar or scroll down and push the interface selector to the left, the next track of the current track plays for about 10 seconds. You will see SC ...
Brake and Clutch Fluid
Check the fluid level in the reservoirs monthly. There are up to two reservoirs, depending on the model. They are: Brake fluid reservoir (all models) Clutch fluid reservoir (manual transmiss ...