Honda Accord: Trunk Lid Weatherstrip Replacement
NOTE: 4-door Is shown; 2-door Is similar.
1. Remove the trunk lid weatherstrip (A) by pulling it off.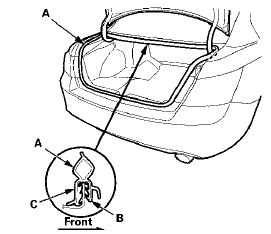 2. Locate the painted alignment mark (B or C) on the trunk lid weatherstrip. Align the painted mark in the center of the trunk lid opening, and install the weatherstrip all the way around in the direction shown. Make sure there are no wrinkles in the weatherstrip.
3. Check for water leaks (see step 9 on page 20-57).
Special Tools Required Torsion Bar Assembly Tool 07AAF-SNAA100 1. Remove the trunk lid torsion bars (A) from the torsion bar center clip (B). 3. Remove the torsion bar center clip (A) from the ...
1. Remove the trunk lid cushion (A) by pulling it out to detach the clips. 2. Replace the trunk lid cushion with a new one. 3. Install the trunk lid cushion by pushing on the clip areas until ...
See also:
Front Brake Caliper Overhaul
Frequent inhalation of brake pad dust, regardless of material composition, could be hazardous to your health. - Avoid breathing dust particles. - Never use an air hose or brush to clean brake ...
Oil Filter Base Replacement
1. Remove the oil filter (see page 8-12). 2. Remove the exhaust pipe bracket (A), then remove the oil filter base (B). 3. Clean the O-ring grooves and the mating surface with the oil filter ba ...
Additional Safety Precautions
Two people should never use the same seat belt. If they do, they could be very seriously injured in a crash. Do not put any accessories on seat belts. Devices intended to improve occupant comf ...