Honda Accord: Trunk Lid Weatherstrip Replacement
NOTE: 4-door Is shown; 2-door Is similar.
1. Remove the trunk lid weatherstrip (A) by pulling it off.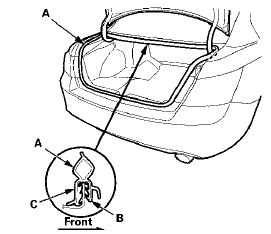 2. Locate the painted alignment mark (B or C) on the trunk lid weatherstrip. Align the painted mark in the center of the trunk lid opening, and install the weatherstrip all the way around in the direction shown. Make sure there are no wrinkles in the weatherstrip.
3. Check for water leaks (see step 9 on page 20-57).
Special Tools Required Torsion Bar Assembly Tool 07AAF-SNAA100 1. Remove the trunk lid torsion bars (A) from the torsion bar center clip (B). 3. Remove the torsion bar center clip (A) from the ...
1. Remove the trunk lid cushion (A) by pulling it out to detach the clips. 2. Replace the trunk lid cushion with a new one. 3. Install the trunk lid cushion by pushing on the clip areas until ...
See also:
Anti-lock Brakes (ABS)
The anti-lock brake system (ABS) helps prevent the wheels from locking up, and helps you retain steering control by pumping the brakes rapidly, much faster than a person can do it. The elec ...
CKP Sensor Replacement
1. Raise the vehicle on a lift. NOTE: Make sure the vehicle is level, because engine oil will drip out when you remove the sensor. 2. Remove the CKP sensor cover (A). 3. Disconnect the CKP s ...
Waive Guide Replacement
Special Tools Required Valve Guide Driver, 5.35 x 9.7 mm 07742-0010100 Valve Guide Reamer, 5.5 mm 07HAH-PJ7A100 1. Inspect the valve stem-to-guide clearance (see page 6-88). 2. As illustrated, ...