Honda Accord: Trunk Lid Torsion Bar Replacement
Special Tools Required
Torsion Bar Assembly Tool 07AAF-SNAA100
1. Remove the trunk lid torsion bars (A) from the torsion bar center clip (B).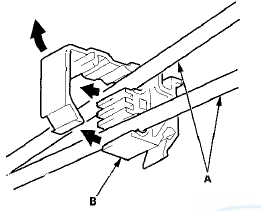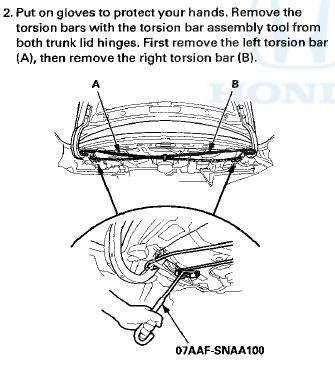 3. Remove the torsion bar center clip (A) from the body.
4. Install the torsion bars In the reverse order of removal, and note these Items: - The shapes of the right torsion bar (A) and the left torsion bar (B) are shown. Install the torsion bars properly.
- Adjust the torsion bars forward or rearward with the torsion bar assembly tool.
- The torsion bars were Installed at the factory in the normal position as shown.
- Make sure the trunk lid opens properly and locks securely.
1. Remove the rear shelf (see page 20-128). 2. Pry up the notches (A) to release the rear hooks (B), and pull up the cap (C) to release the side hooks (D), then remove the cap. 3. Slightly lo ...
NOTE: 4-door Is shown; 2-door Is similar. 1. Remove the trunk lid weatherstrip (A) by pulling it off. 2. Locate the painted alignment mark (B or C) on the trunk lid weatherstrip. Align the pain ...
See also:
Changing the Folders
While playing an MP3/WMA disc, you can select a folder within the disc by pressing either side of the category bar. Each time you press either side of the bar, the folder title and its first ...
Sunglasses Holder
To open the sunglasses holder, push then release the indent. It will unlatch and swing down. To close it, push it until it latches. Make sure the holder is closed while you are driving. S ...
Tire Maintenance
In addition to proper inflation, correct wheel alignment helps to decrease tire wear. If you find a tire is worn unevenly, have your dealer check the wheel alignment. Have your dealer check t ...