Honda Accord: Trunk Lid Torsion Bar Replacement
Special Tools Required
Torsion Bar Assembly Tool 07AAF-SNAA100
1. Remove the trunk lid torsion bars (A) from the torsion bar center clip (B).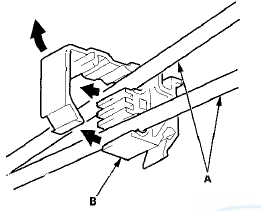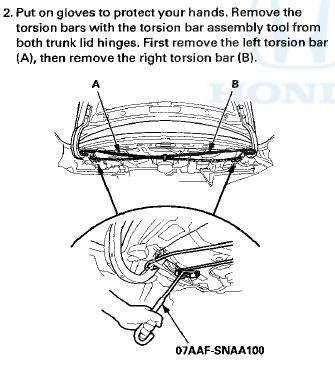 3. Remove the torsion bar center clip (A) from the body.
4. Install the torsion bars In the reverse order of removal, and note these Items: - The shapes of the right torsion bar (A) and the left torsion bar (B) are shown. Install the torsion bars properly.
- Adjust the torsion bars forward or rearward with the torsion bar assembly tool.
- The torsion bars were Installed at the factory in the normal position as shown.
- Make sure the trunk lid opens properly and locks securely.
1. Remove the rear shelf (see page 20-128). 2. Pry up the notches (A) to release the rear hooks (B), and pull up the cap (C) to release the side hooks (D), then remove the cap. 3. Slightly lo ...
NOTE: 4-door Is shown; 2-door Is similar. 1. Remove the trunk lid weatherstrip (A) by pulling it off. 2. Locate the painted alignment mark (B or C) on the trunk lid weatherstrip. Align the pain ...
See also:
Outside Temperature Indicator
If equipped This indicator displays the outside temperature in Fahrenheit (U.S. models) or Celsius (Canadian models). To see the outside temperature, press and release the select/reset knob ...
Washer Tube Replacemen
1. Remove the right front inner fender (see page 20-290). 2. Remove the windshield washer nozzles and clips, then remove the tubes. *1:USA models *2: Canada models 3. Install in the reverse or ...
Specifications (V6 models)
Dimensions Dimensions Weights Weights Air Conditioning Air Conditioning Engine Engine *: Manual transmission Seating Capacities Seating Capacities Capacities Capacities *1 : ...