Honda Accord: Trunk Lid Adjustment
1. Remove the rear shelf (see page 20-128).
2. Pry up the notches (A) to release the rear hooks (B), and pull up the cap (C) to release the side hooks (D), then remove the cap.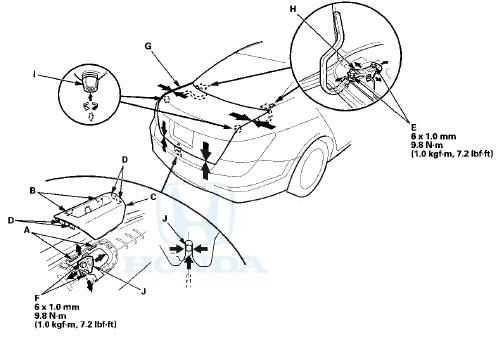 3. Slightly loosen the trunk lid hinge bolts (E) and the striker bolts (F).
4. Adjust the trunk lid (G) alignment in the following sequence: - Adjust the trunk lid hinges (H) right and left, as well as forward and rearward, by using the elongated holes. Take care not to hit the rear window when loosening the bolts.
- Turn the trunk lid edge cushions (I), in or out as necessary, to make the trunk lid fit flush with the body at the rear and side edges.
- Adjust the fit between the trunk lid and the trunk lid opening by moving the striker (J).
5. Tighten each bolt to the specified torque.
6. Make sure the trunk lid opens properly and locks securely.
7. Reinstall all removed parts.
Special Tools Required Torsion Bar Assembly Tool 07AAF-SNAA100 1. Remove the trunk lid torsion bars (A) from the torsion bar center clip (B). 3. Remove the torsion bar center clip (A) from the ...
See also:
Cam Chain Removal
NOTE: Keep the cam chain away from magnetic fields. 1. Remove the front wheels. 2. Remove the splash shield (see step 25 on page 5-5). 3. Remove the drive belt (see page 4-30). 4. Remove t ...
Shift Lock Release
This allows you to move the shift lever out of Park if the normal method of pushing on the brake pedal and pressing the release button does not work. 1. Set the parking brake. 2. Remove the ...
Idle Speed Inspection
NOTE: - Before checking the idle speed, check these items: - The malfunction indicator lamp (MIL) has not been reported on, and there are no DTCs. - Ignition timing - Spark plug ...