Honda Accord: Trunk Lid Adjustment
1. Remove the rear shelf (see page 20-128).
2. Pry up the notches (A) to release the rear hooks (B), and pull up the cap (C) to release the side hooks (D), then remove the cap.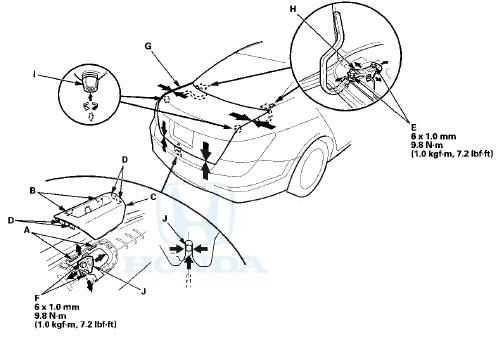 3. Slightly loosen the trunk lid hinge bolts (E) and the striker bolts (F).
4. Adjust the trunk lid (G) alignment in the following sequence: - Adjust the trunk lid hinges (H) right and left, as well as forward and rearward, by using the elongated holes. Take care not to hit the rear window when loosening the bolts.
- Turn the trunk lid edge cushions (I), in or out as necessary, to make the trunk lid fit flush with the body at the rear and side edges.
- Adjust the fit between the trunk lid and the trunk lid opening by moving the striker (J).
5. Tighten each bolt to the specified torque.
6. Make sure the trunk lid opens properly and locks securely.
7. Reinstall all removed parts.
Special Tools Required Torsion Bar Assembly Tool 07AAF-SNAA100 1. Remove the trunk lid torsion bars (A) from the torsion bar center clip (B). 3. Remove the torsion bar center clip (A) from the ...
See also:
Ignition Switch Replacement
NOTE: SRS components are located In the area. Review the SRS component locations 4-door (see page 24-21), 2-door (see page 24-23), and precautions and procedures (see page 24-25) before doing repai ...
Wheels
Clean the wheels as you would the rest of the exterior. Wash them with the same solution, and rinse them thoroughly. Aluminum alloy wheels have a protective clear-coat that keeps the alumin ...
Tire Pressure Monitoring System (TPMS) - Required Federal Explanation
Each tire, including the spare (if provided), should be checked monthly when cold and inflated to the inflation pressure recommended by the vehicle manufacturer on the vehicle placard or tir ...