Honda Accord: TPMS Control Unit Replacement
NOTE: Make sure the TPMS control unit mounting bracket is not bent or twisted as this may affect its communication with the tire pressure sensors.
1. Turn the ignition switch to LOCK (0).
2. Remove the flange bolt (A), then remove the TPMS control unit (B) with the bracket (C).
NOTE: The TPMS control unit is located over the accelerator pedal module.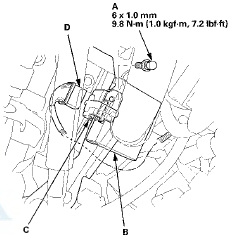 3. Disconnect the TPMS control unit connector (D).
4. Remove the TPMS control unit (A) from the bracket (B).
NOTE: To disconnect the TPMS control unit from its bracket, insert a small flat-tipped screwdriver (C) between the TPMS control unit and the bracket to release the hook (D), then slide out the TPMS control unit.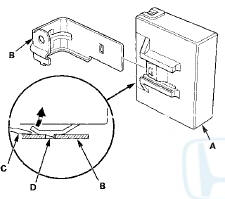 5. Install the TPMS control unit in the reverse order of removal.
NOTE: Make sure the TPMS control unit is properly installed. You will hear a click when the TPMS control unit is securely mounted on the bracket.
6. Connect the HDS, and memorize the tire pressure sensor IDs using the TPMS tool (see page 18-60).
Loiw tire pressure Indicator does not come on, and no DTCs are stored NOTE: Check for gauge DTCs with the HDS (see page 22-3). If gauge DTCs are stored, troubleshoot those DTCs first. 1. Turn t ...
Removal Each tire pressure sensor contains a lithium anode battery that is not removable. The complete tire pressure sensor should be disposed of according to local battery disposal guidelines o ...
See also:
Jump Starting
Although this seems like a simple procedure, you should take several precautions. A battery can explode if you do not follow the correct procedure, seriously injuring anyone nearby. Ke ...
How the SRS Indicator Works
The SRS indicator alerts you to a potential problem with your airbag system components. When you turn the ignition switch to the ON (II) position, this indicator comes on briefly then goes ...