Honda Accord: ATF Filter Replacement
NOTE: The ATF filter is not a scheduled maintenance item. Replace the filter only if it is leaking, or contaminated, or when the transmission is being overhauled or replaced with a remanufactured unit.
1. Raise the vehicle on a lift, or apply the parking brake, block the rear wheels, and raise the front of the vehicle. Make sure it is securely supported.
2. Remove the splash shield. 3. Remove the drain plug (A), and drain the ATF.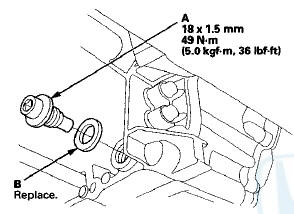 4. Reinstall the drain plug with a new sealing washer (B).
5. Disconnect the ATF cooler hoses (A) from the ATF filter (B).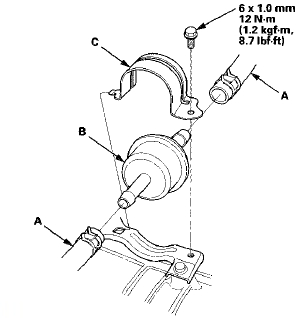 6. Remove the ATF filter holder (C).
7. Replace the ATF filter, then secure it with the ATF filter holder and the bolt.
8. Connect the ATF cooler hoses to the ATF filter, and secure the hoses with the clips (see page 14-220).
9. Install the splash shield.
10. Refill the transmission with ATF (see step 4 on page 14-192).
Exploded View NOTE: When installing the hose clamps, make sure they do not interfere with the surrounding parts. 1. Install the ATF cooler hoses over the ATF cooler lines with the clips at a ...
1. Remove the center console (see page 20-158). 2. Move the shift lever to R. 3. Remove the nut securing the shift cable end. 4. Unlock the retainer (A). 5. Rotate the socket holder retain ...
See also:
A/F Sensor Replacement
Special Tools Required 02 Sensor Wrench Snap-on S6176 or equivalent, commercially available 1. Disconnect the A/F sensor 4P connector (A), then remove the A/F sensor (B). 2. Install the parts i ...
Using a Booster Seat
A child who has outgrown a forwardfacing child seat should ride in a back seat and use a booster seat until the lap/shoulder belt fits them properly without the booster. Some states, Canadi ...
Transmission Reassembly
NOTE: Prior to reassembly, clean all the parts in solvent, dry them, and apply MTF to any contact surfaces. 1. Install the magnet (A) and the differential assembly (B). NOTE: Clean the magnet ...