Honda Accord: ATF Filter Replacement
NOTE: The ATF filter is not a scheduled maintenance item. Replace the filter only if it is leaking, or contaminated, or when the transmission is being overhauled or replaced with a remanufactured unit.
1. Raise the vehicle on a lift, or apply the parking brake, block the rear wheels, and raise the front of the vehicle. Make sure it is securely supported.
2. Remove the splash shield. 3. Remove the drain plug (A), and drain the ATF.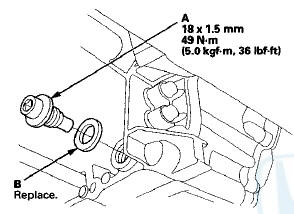 4. Reinstall the drain plug with a new sealing washer (B).
5. Disconnect the ATF cooler hoses (A) from the ATF filter (B).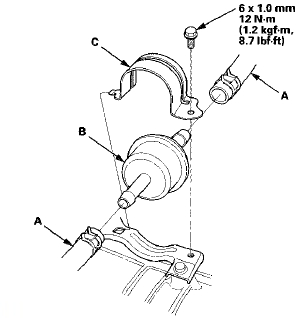 6. Remove the ATF filter holder (C).
7. Replace the ATF filter, then secure it with the ATF filter holder and the bolt.
8. Connect the ATF cooler hoses to the ATF filter, and secure the hoses with the clips (see page 14-220).
9. Install the splash shield.
10. Refill the transmission with ATF (see step 4 on page 14-192).
Exploded View NOTE: When installing the hose clamps, make sure they do not interfere with the surrounding parts. 1. Install the ATF cooler hoses over the ATF cooler lines with the clips at a ...
1. Remove the center console (see page 20-158). 2. Move the shift lever to R. 3. Remove the nut securing the shift cable end. 4. Unlock the retainer (A). 5. Rotate the socket holder retain ...
See also:
Alternator Removal and Installation
Removal 1. Do the battery terminal disconnection procedure (see page 22-91). 2. Remove the drive belt (see page 4-30). 3. Remove the two bolts securing the alternator. 4. Disconnect the alt ...
Connector Index
Identification numbers have been assigned to in-line connectors, junction connectors, and terminals. The number is preceded by the letter "C" for connectors, " G " for ground te ...
Close and Lock the Doors
After everyone has entered the vehicle, be sure the doors are closed and locked. Your vehicle has a door and trunk open indicator on the instrument panel to indicate when a specific door ...