Honda Accord: Transmission Number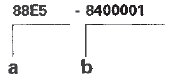 Transmission Type
88E5: 5-speed Manual
B90A: 5-speed Automatic
Serial Number
3000001-: B90A
8400001-: 88E5
Engine Type K24Z3: 2.4 L DOHC i-VTEC Sequential Multiport Fuel-injected, 190HP engine Serial Number 3500001 --: PZEV 3750001 --Сћ: Except PZEV ...
See also:
Stabilizer Link Removal/Installation
1. Raise and support the vehicle (see page 1 -13). 2. Remove the front wheel. 3. Remove the self-locking nut (A) and the flange nut (B) while holding the respective joint pin (C) with a hex wr ...
ACC (Adaptive Cruise Control)*
Maintains a constant vehicle speed and a safe distance between your vehicle and the vehicle ahead of you without having to keep your foot on the brake pedal or accelerator. WARNING Improper ...
Steering
...