Honda Accord: Engine Number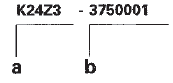 Engine Type
K24Z3: 2.4 L DOHC i-VTEC Sequential Multiport Fuel-injected, 190HP engine
Serial Number
3500001 --: PZEV
3750001 --Сћ: Except PZEV
Manufacturer, Make, and Type of Vehicle 1HG: Honda of America Mfg., Inc. Honda passenger vehicle Line, Body, and Engine Type CS1: Accord Coupe/K24Z3 Body Type and Transmission Type A: 2-door ...
Transmission Type 88E5: 5-speed Manual B90A: 5-speed Automatic Serial Number 3000001-: B90A 8400001-: 88E5 ...
See also:
Quarter Glass Replacement
2-door NOTE: - Put on gloves to protect your hands. - Wear eye protection when removing the glass with piano wire. - Use seat covers to avoid damaging any surfaces. - The quarter glass cli ...
Sunlight Sensor/Temperature Sensor
The climate control systemhas two sensors: a sunlight sensor on top of the dashboard, and a temperature sensor next to the steering column. Do not cover the sensors or spill any liquid on t ...