Honda Accord: Vehicle Identification Number

Manufacturer, Make, and Type of Vehicle
1HG: Honda of America Mfg., Inc.
Honda passenger vehicle
Line, Body, and Engine Type
CS1: Accord Coupe/K24Z3
Body Type and Transmission Type
A: 2-door Coupe/5-speed Manual
B: 2-door Coupe/5-speed Automatic
Vehicle Grade (Series)
USA models
3: LX, LX PZEV, LX-S
7: EX, EX PZEV
8: EX-L, EX-L PZEV
Canada models
3: LX
7: EX
8: EX-L
Check Digit
Model Year
A: '10
Factory Code
A: Marysville, Ohio Factory in U.S.A.
Serial Number
000001-: USA models
800001 -": Canada models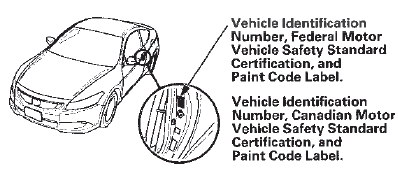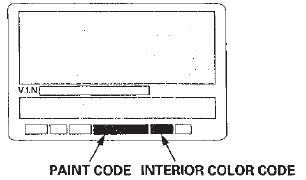 Engine Type K24Z3: 2.4 L DOHC i-VTEC Sequential Multiport Fuel-injected, 190HP engine Serial Number 3500001 --: PZEV 3750001 --Сћ: Except PZEV ...
See also:
Component Location Index
4-door 4-door 2-door 2-door ...
To Turn Everything Off
To turn the system completely off, press the ON/OFF button. Keep the system completely off for short periods only. To keep stale air and mustiness from collecting, you should have the fan ru ...
Synchro Ring and Gear Inspection
1. Inspect the synchro rings for scoring, cracks, and damage (A). Example of synchro ring teeth 2. Inspect the inside of each synchro ring (B) for wear. Inspect the ...