Honda Accord: Component Location Index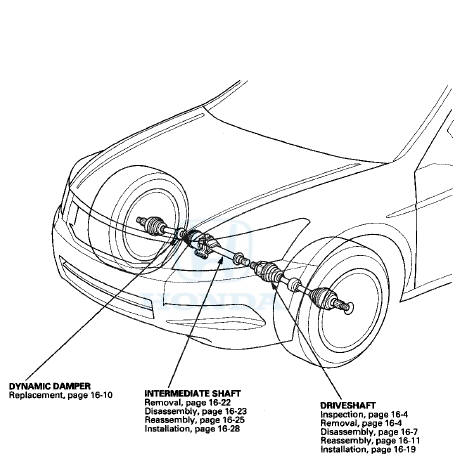 1. Check the inboard boot (A) and the outboard boot (B) on the driveshaft (C) for cracks, damage, leaking grease, and loose boot bands (D). If any damage is found, replace the boot and the boot ban ...
See also:
Servo Body Disassembly, Inspection, and Reassembly
1. Clean all parts thoroughly in solvent, and dry them with compressed air. Blow out all passages. 2. Inspect the valve body for scoring and damage. 3. Check shift valve D for free movement. I ...
Front Splash Shield Replacement
NOTE: - Put on gloves to protect your hands. - Take care not to scratch the body. - When prying with a flat-tip screwdriver, wrap it with protective tape to prevent damage. - 4-door is sho ...
Specifications (4-cylinder models)
Dimensions Dimensions Weights Weights Air Conditioning Air Conditioning Engine Engine Seating Capacities Seating Capacities Capacities Capacities * 1: Including the coolant in ...