Honda Accord: Moonroof Switch Test/Replacement
1. Remove the front Individual map lights (see page 22-258).
2. Disconnect the moonroof switch 12P connector (A) and map light 3P connector (B).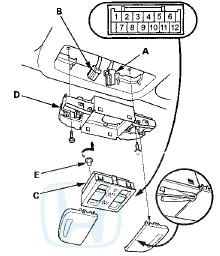 3. Remove the moonroof switch (C) from the map light housing (D).
4. Check for continuity between the terminals in each switch position according to the table.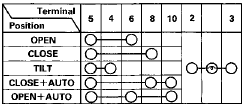 5. If the continuity is not as specified, replace the illumination bulb (E) or the switch.
6. Install the switch and light in the reverse order of removal.
NOTE; If the moonroof works OK manually, but will not work in AUTO, or reverses frequently (obstacle detection), reset the moonroof (see page 22-371) before proceeding with the input test 1. Turn ...
See also:
Horn Switch Test
NOTE: Check for a blown No. 10 (20 A) fuse in the under-hood fuse/relay box. If it is blown, check for a faulty horn relay. 1. Turn the steering wheel 180 degrees from the center position and re ...
Cf Under Head Removal
NOTE: - Use fender covers to avoid damaging painted surfaces. - To avoid damage, unplug the wiring connectors carefully while holding the connector portion. - Connect the Honda Diagnostic Sys ...
TPMS Control Unit Replacement
NOTE: Make sure the TPMS control unit mounting bracket is not bent or twisted as this may affect its communication with the tire pressure sensors. 1. Turn the ignition switch to LOCK (0). 2. R ...