Honda Accord: Moonroof Switch Test/Replacement
1. Remove the front Individual map lights (see page 22-258).
2. Disconnect the moonroof switch 12P connector (A) and map light 3P connector (B).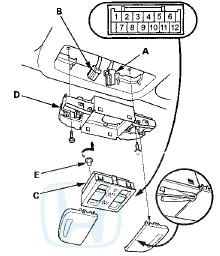 3. Remove the moonroof switch (C) from the map light housing (D).
4. Check for continuity between the terminals in each switch position according to the table.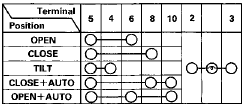 5. If the continuity is not as specified, replace the illumination bulb (E) or the switch.
6. Install the switch and light in the reverse order of removal.
NOTE; If the moonroof works OK manually, but will not work in AUTO, or reverses frequently (obstacle detection), reset the moonroof (see page 22-371) before proceeding with the input test 1. Turn ...
See also:
Power Mirror Replacement
NOTE: Take care not to scratch the door. 1. Lower the door glass fully. 2. With your hand, carefully pull out the top edge of the tweeter cover (A) to release the upper hooks (B) and detach th ...
General Troubleshooting Information
Troubleshooting CAN Circuit Related Problems NOTE: If you are troubleshooting multiple DTCs, be sure to follow the instructions in B-Can System Diagnosis Test Mode A (see page 22-134).. Using the ...
Tire Service Life
The service life of your tires is dependent on many factors, including, but not limited to, driving habits, road conditions, vehicle loading, inflation pressure, maintenance history, speed, ...