Honda Accord: Moonroof Switch Test/Replacement
1. Remove the front Individual map lights (see page 22-258).
2. Disconnect the moonroof switch 12P connector (A) and map light 3P connector (B).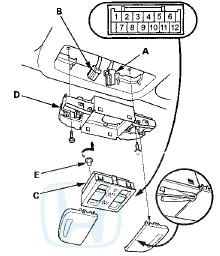 3. Remove the moonroof switch (C) from the map light housing (D).
4. Check for continuity between the terminals in each switch position according to the table.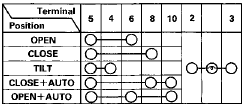 5. If the continuity is not as specified, replace the illumination bulb (E) or the switch.
6. Install the switch and light in the reverse order of removal.
NOTE; If the moonroof works OK manually, but will not work in AUTO, or reverses frequently (obstacle detection), reset the moonroof (see page 22-371) before proceeding with the input test 1. Turn ...
See also:
Sunlight Sensor Replacement
1. Remove the sunlight sensor (A) from the dashboard, then disconnect the connector (B). Be careful not to damage the sensor and the dashboard. 2. Install the sensor in the reverse order of remov ...
USB Flash Memory Device Error Messages (Models with navigation system)
If you see an error message in the center display while playing a USB flash memory device, find the solution in the chart to the right. If you cannot clear the error message, take your vehic ...
Windshield Washers
Check the level in the windshield washer reservoir at least monthly during normal use. Check the fluid level by removing the cap and looking at the level gauge. On Canadian models: The low ...