Honda Accord: Moonroof Switch Test/Replacement
1. Remove the front Individual map lights (see page 22-258).
2. Disconnect the moonroof switch 12P connector (A) and map light 3P connector (B).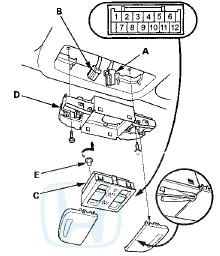 3. Remove the moonroof switch (C) from the map light housing (D).
4. Check for continuity between the terminals in each switch position according to the table.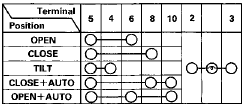 5. If the continuity is not as specified, replace the illumination bulb (E) or the switch.
6. Install the switch and light in the reverse order of removal.
NOTE; If the moonroof works OK manually, but will not work in AUTO, or reverses frequently (obstacle detection), reset the moonroof (see page 22-371) before proceeding with the input test 1. Turn ...
See also:
Park Pin Switch Replacement
Type A Shift Lever NOTE: The AfT gear position indicator panel light harness and the park pin switch are not available separately. Replace the A/T gear position indicator panel light harness and t ...
Folder Random
This feature, when activated, plays all files in the current folder in random order. To activate folder random play, select FOLDER RANDOM by using the interface knob, and press ENTER on the ...