Honda Accord: Moonroof Switch Test/Replacement
1. Remove the front Individual map lights (see page 22-258).
2. Disconnect the moonroof switch 12P connector (A) and map light 3P connector (B).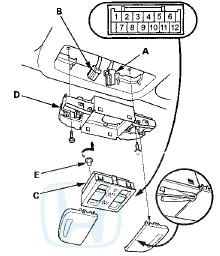 3. Remove the moonroof switch (C) from the map light housing (D).
4. Check for continuity between the terminals in each switch position according to the table.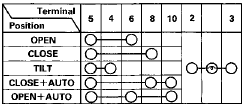 5. If the continuity is not as specified, replace the illumination bulb (E) or the switch.
6. Install the switch and light in the reverse order of removal.
NOTE; If the moonroof works OK manually, but will not work in AUTO, or reverses frequently (obstacle detection), reset the moonroof (see page 22-371) before proceeding with the input test 1. Turn ...
See also:
GPS Antenna Removal/Installation
1. Remove the rear shelf (see page 20-128). 2. Disconnect the GPS antenna connector (A), and remove the bolt (B). 3. Detach the harness clips, and remove the GPS antenna (C). 4. Install the ...
Starting the Engine
1. Make sure the parking brake is applied. 2. Check that the shift lever is in , then depress the brake pedal. - Although it is possible to start the vehicle in , it is safer to st ...
Authorized Manuals
Purchasing Factory Authorized Manuals (U.S. only) The publications shown below can be purchased from Helm Incorporated. You can order by phone or online: Call Helm Inc. at 1-800-782-4356 (credit c ...