Honda Accord: Glass Weatherstrip Replacement
1 . Remove the moonroof glass (see page 20-91).
2. Place a piece of masking tape (A) on the middle of the front edge of the moonroof glass (B). Make sure that the tape is on the glass only, and is not touching the weatherstrip.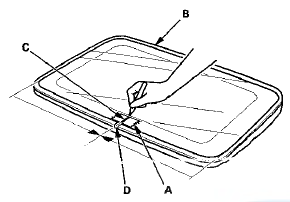 3. Place a mark (C) on the masking tape that aligns with the seam (D) of the weatherstrip.
4. Push down on the top of the old weatherstrip with your thumb until a small section separates from the moonroof glass. Once a section has started to separate, grip it and pull outward, working around the moonroof glass until the weatherstrip is completely removed (note the locations of the holes in the weatherstrip).
5. Align the seam (A) of the new weatherstrip (B) to the mark (C) on the masking tape (D). Make sure the holes are pointed in the same direction as noted in step 4.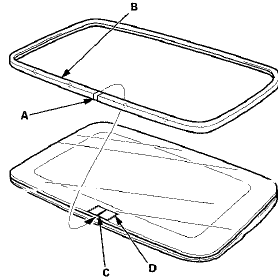 6. Press the ridge of the new weatherstrip into the groove on the moonroof glass starting at the seam.
Work toward one corner; then go back to the middle and work toward the opposite corner. Be careful not to stretch the weatherstrip.
7. Continue pressing along one side, from corner to corner; then press along the opposite side, from corner to corner.
8. At the rear of the moonroof glass, continue pressing from one corner to the middle; then press from the opposite corner to the middle until the strip is completely installed.
9. Reinstall the moonroof glass (see page 20-91).
10. Check for proper fit of the new weatherstrip by opening and closing the moonroof.
1. Close the glass fully. 2. Slide the sunshade all the way back. 3. Pry out the lid (A), remove the screw (B), and release the hooks (C), then remove the bracket cover (D). Repeat on the op ...
NOTE: When prying with a flat-tip screwdriver, wrap it with protective tape to prevent damage. 1. Open the glass fully. 2. Remove the deflector links (A) from both sides. 3. Remove the wind ...
See also:
Changing the Wiper Blade Rubber
1. Lift the driver side wiper arm first, then the passenger side. 2. Press and hold the tab, then slide the blade from the wiper arm. NOTICE Avoid dropping the wiper arm; it may damage the ...