Honda Accord: Wind Deflector Replacement
NOTE: When prying with a flat-tip screwdriver, wrap it with protective tape to prevent damage.
1. Open the glass fully.
2. Remove the deflector links (A) from both sides.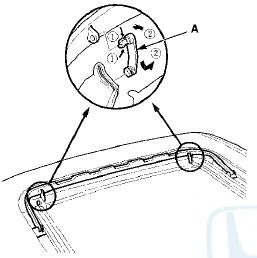 3. Remove the wind deflector (A).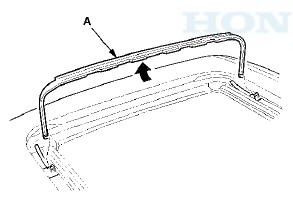 4. Pry up on the deflector arm bases (A) with a flat-tip screwdriver, and release the hooks (B), then remove the bases with deflector arm springs (C) from both sides.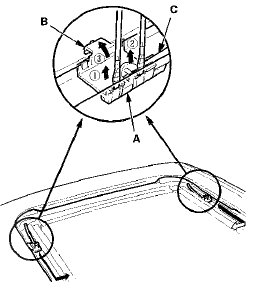 5. Install the deflector in the reverse order of removal.
6. Reset the moonroof control unit (see page 22-371).
1 . Remove the moonroof glass (see page 20-91). 2. Place a piece of masking tape (A) on the middle of the front edge of the moonroof glass (B). Make sure that the tape is on the glass only, and i ...
1. Remove the moonroof glass (see page 20-91). 2. On both sides, slide the glass brackets (A) with the moonroof switch to the position where the moonroof normally tilts up and disconnect the drai ...
See also:
SRS Unit Replacement
Removal 1. Do t h e b a t t e r y t e r m i n a l d i s c o n n e c t i o n procedure (see page 22-91), t h e n w a i t at least 3 m i n u t e s before s t a r t i n g work. 2. Remove t h e d ...
Component Location Index
2-door 4-door ...
Vehicle Identification Number
Manufacturer, Make, and Type of Vehicle 1HG: Honda of America Mfg., Inc. Honda passenger vehicle Line, Body, and Engine Type CS1: Accord Coupe/K24Z3 Body Type and Transmission Type A: 2-door ...