Honda Accord: Fuse/Relay Boxes
Connector to Fuse/Relay Box Index
Under-hood Fuse/Relay Box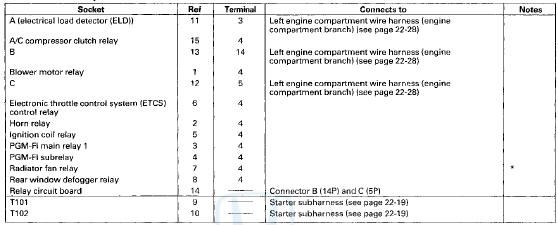 *: '08-09 models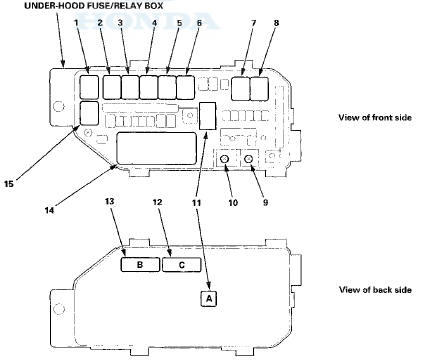 Driver's Under-dash Fuse/Relay B O M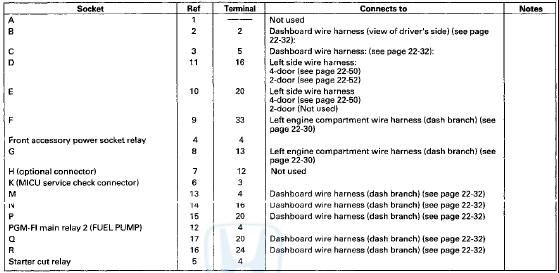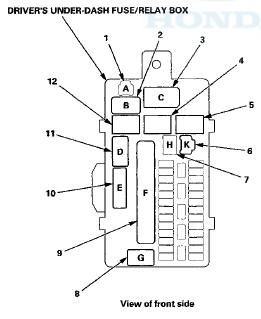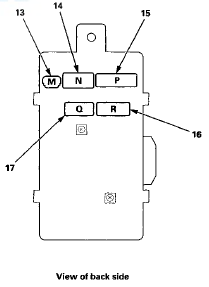 Passenger's Under-dash Fuse/Relay Box

*1: LX, LX PZEV, LX-P, LX-P PZEV
*2: Except LX, LX PZEV, LX-P, LX-P PZEV
*3: With premium audio system and navigation system
*4: With premium audio system without navigation system
* 5 : Without premium audio system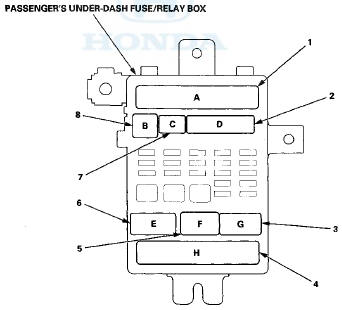 Starter Subharness Engine Wire Harness (M/T) Engine Wire Harness ( A / T ) *1: PZEV *2: Except PZEV CKP Sensor Subharness Shift Solenoid Wire Harness (A/T) Transmission Rang ...
Fuse to Components Index Under-hood Fuse/Relay Box * 1 : LX, LX PZEV, LX-P, LX-P PZEV *2: Except LX, LX PZEV, LX-P, LX-P PZEV Driver's Under-dash Fuse/Relay Box Passenger's Under-dash Fus ...
See also:
Starter Overhaul
Disassembly/Reassembly Armature Inspection and Test 1. Remove the starter (see page 4-11). 2. Disassemble the starter as shown in the Exploded View. 3. Inspect the armature for wear or dama ...
Trunk Lid Opener/Fuel Fill Door Opener Replacement
Special Toots Required KTC Trim Tool Set SOJATP2014* *Available through the Honda Tool and Equipment Program; call 888-424-6857 NOTE: - Put on gloves to protect your hands. - Take care not t ...
Towing a Trailer
Your vehicle has been designed primarily to carry passengers and their cargo. You can also use it to tow a trailer if you carefully observe the load limits, use the proper equipment, and fol ...