Honda Accord: Fuse/Relay Boxes
Connector to Fuse/Relay Box Index
Under-hood Fuse/Relay Box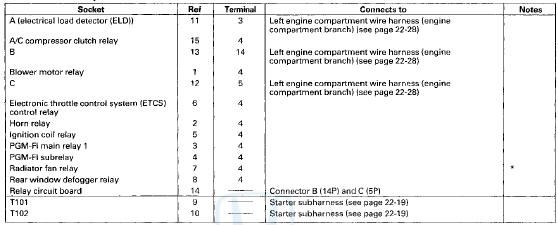 *: '08-09 models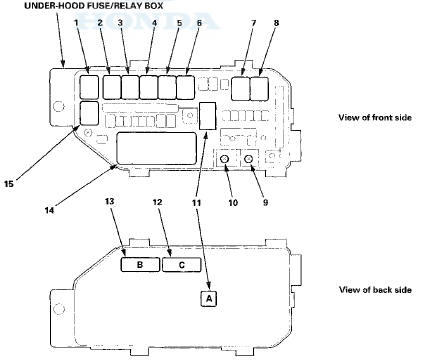 Driver's Under-dash Fuse/Relay B O M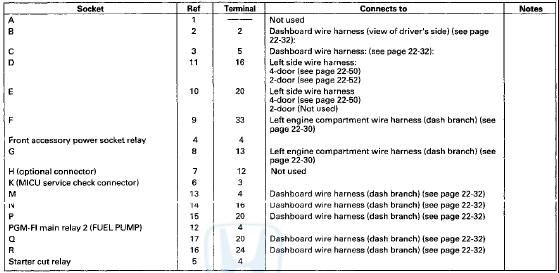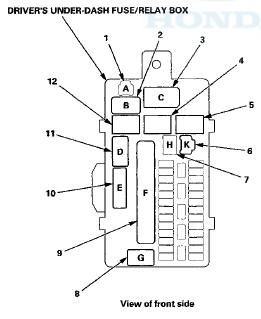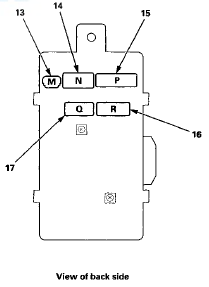 Passenger's Under-dash Fuse/Relay Box

*1: LX, LX PZEV, LX-P, LX-P PZEV
*2: Except LX, LX PZEV, LX-P, LX-P PZEV
*3: With premium audio system and navigation system
*4: With premium audio system without navigation system
* 5 : Without premium audio system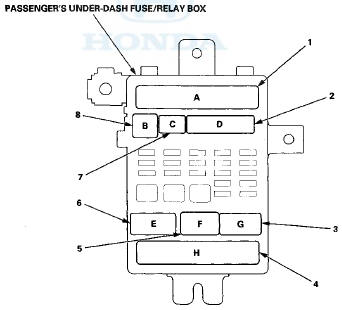 Starter Subharness Engine Wire Harness (M/T) Engine Wire Harness ( A / T ) *1: PZEV *2: Except PZEV CKP Sensor Subharness Shift Solenoid Wire Harness (A/T) Transmission Rang ...
Fuse to Components Index Under-hood Fuse/Relay Box * 1 : LX, LX PZEV, LX-P, LX-P PZEV *2: Except LX, LX PZEV, LX-P, LX-P PZEV Driver's Under-dash Fuse/Relay Box Passenger's Under-dash Fus ...
See also:
Starting the Engine
1. Make sure the parking brake is applied. 2. Check that the shift lever is in , then depress the brake pedal. - Although it is possible to start the vehicle in , it is safer to st ...
Brake Hose Replacement
NOTE; - Before reassembling, cheek that all parts are free of dirt and other foreign particles. - Replace parts with new ones whenever specified to do so. - Do not spill brake fluid on the ve ...
Audio Remote Controls
Allows you to operate the audio system while driving. The CD mode appears only when a CD is loaded. ...