Honda Accord: Connector to Harness Index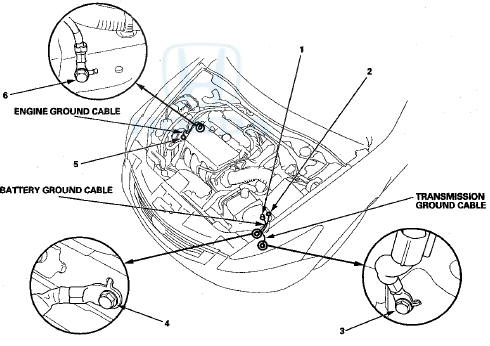 Starter Subharness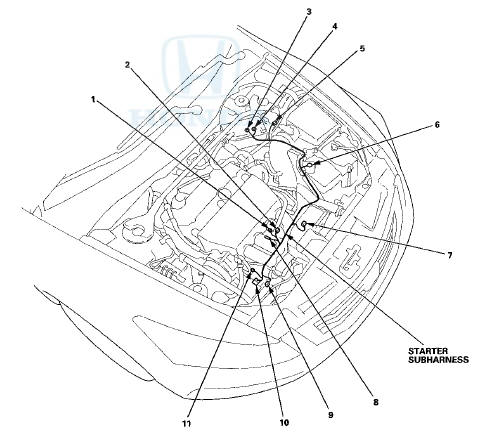 Engine Wire Harness (M/T)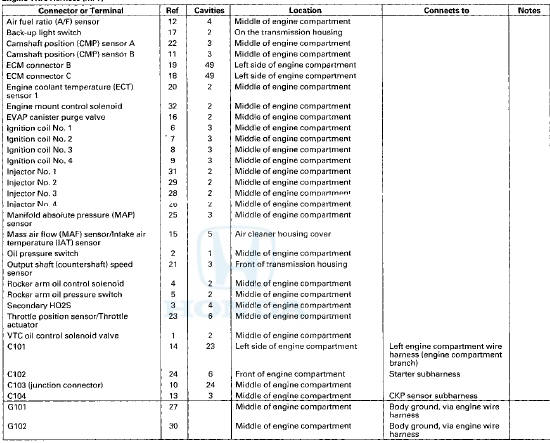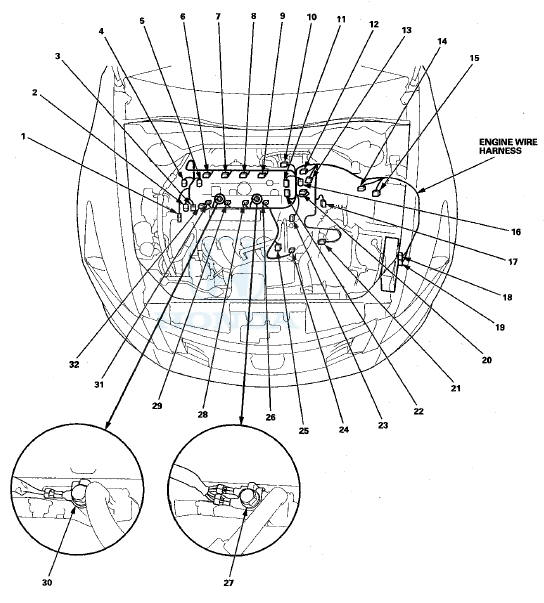 Engine Wire Harness ( A / T )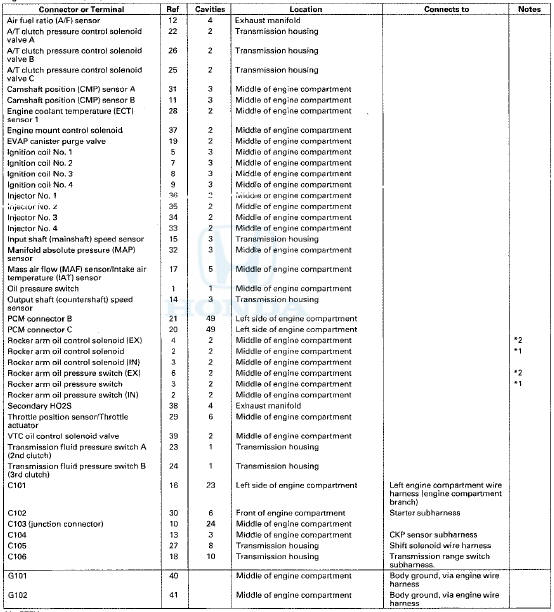 *1: PZEV
*2: Except PZEV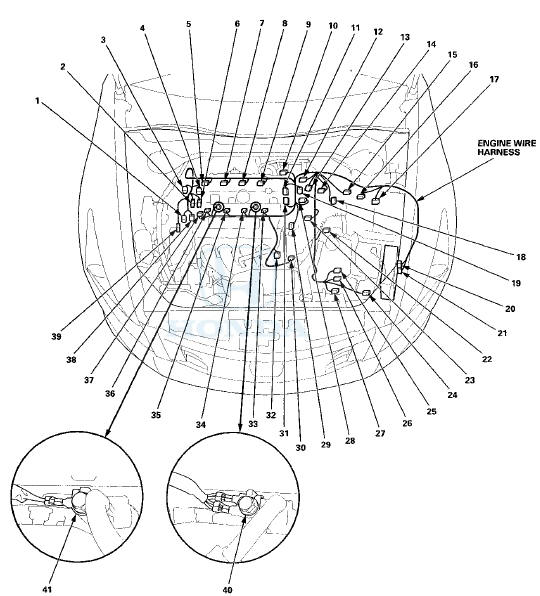 CKP Sensor Subharness

Shift Solenoid Wire Harness (A/T)

Transmission Range Switch Subharness (A/T)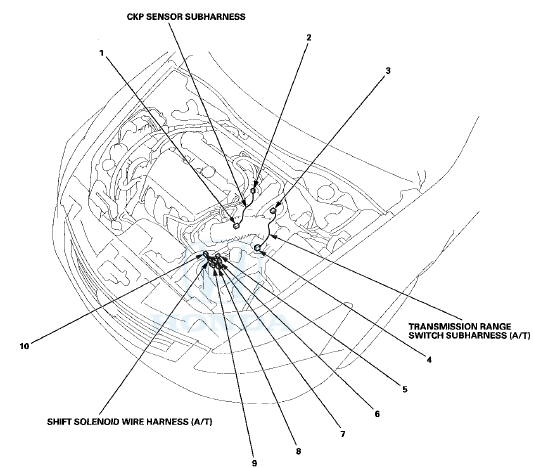 Right Engine Compartment Wire Harness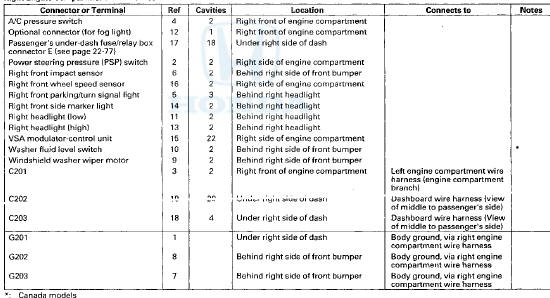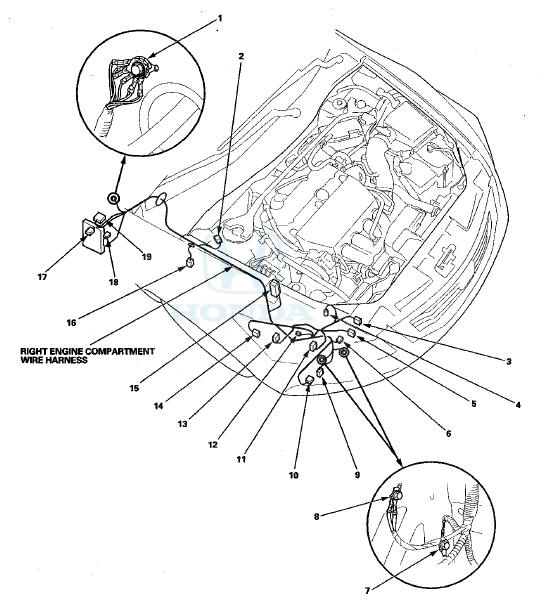 Left Engine Compartment Wire Harness (Engine compartment branch)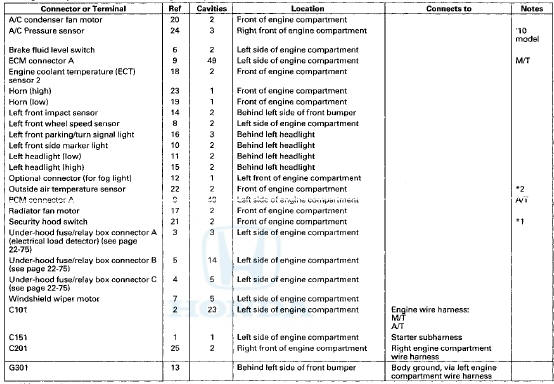 *1: With security
*2; With climate control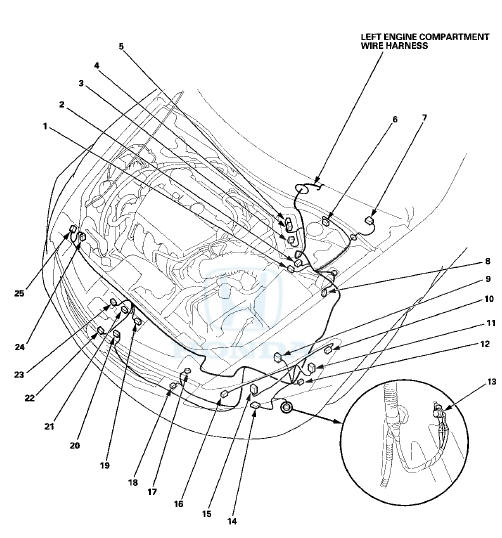 Left Engine Compartment Wire Harness (Dash branch)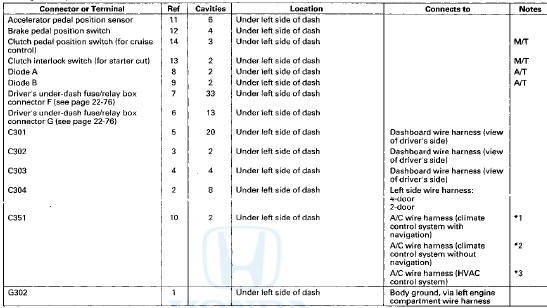 *1: With climate control and navigation system
*2: With climate control without navigation system
*3: With HVAC control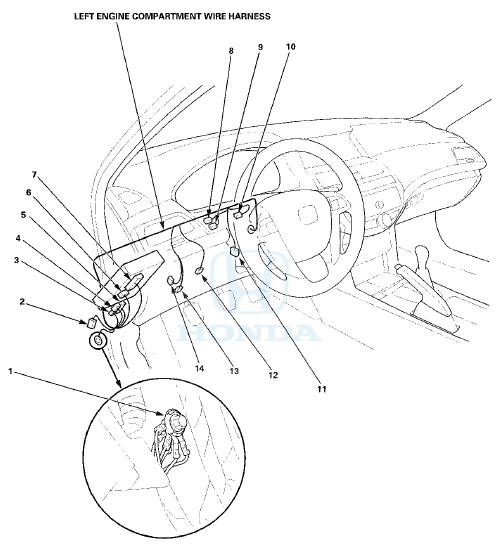 Dashboard Wire Harness (View of driver's side)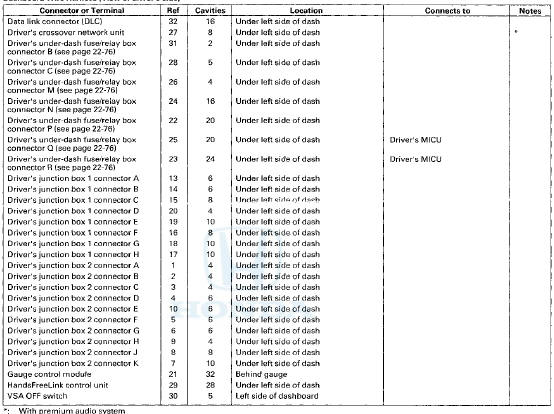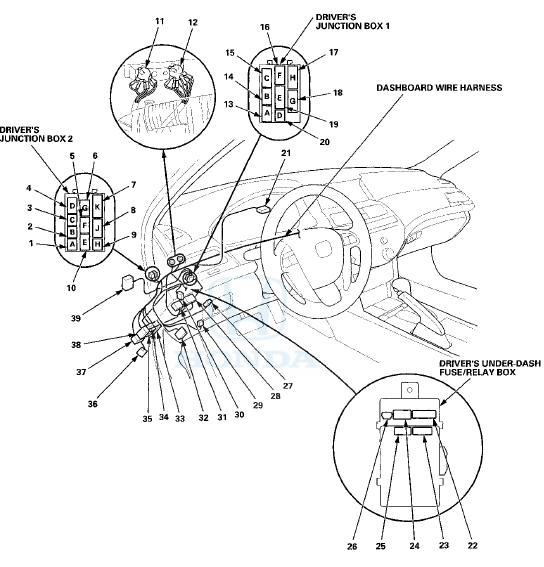 Dashboard Wire Harness ( V i e w of driver's side) (cont'd)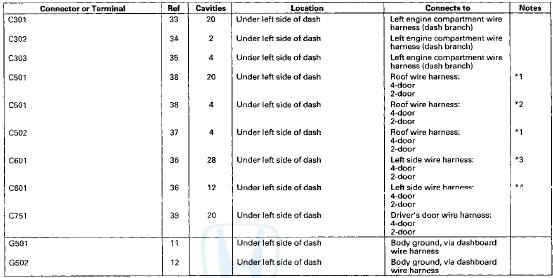 *1: With moonroof
*2: Without moonroof
*3: Except LX, LX PZEV, LX-P, LX-P PZEV
*4: LX, LX PZEV, LX-P, LX-P PZEV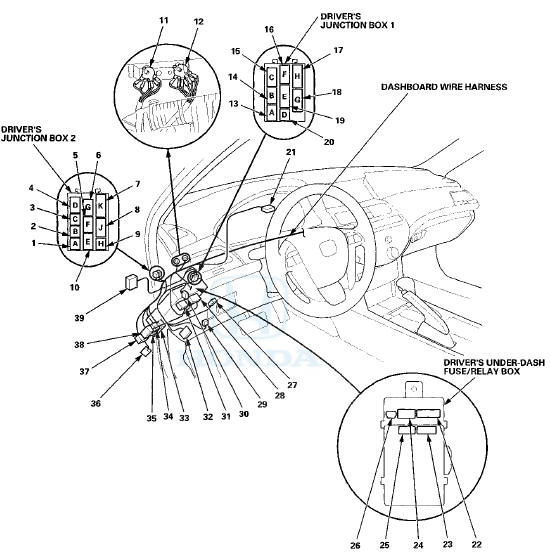 Dashboard Wire Harness (View of middle to passenger's side)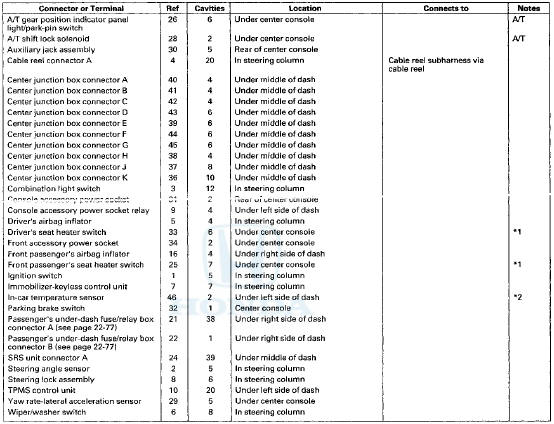 *1: With seat heater
*2: With climate control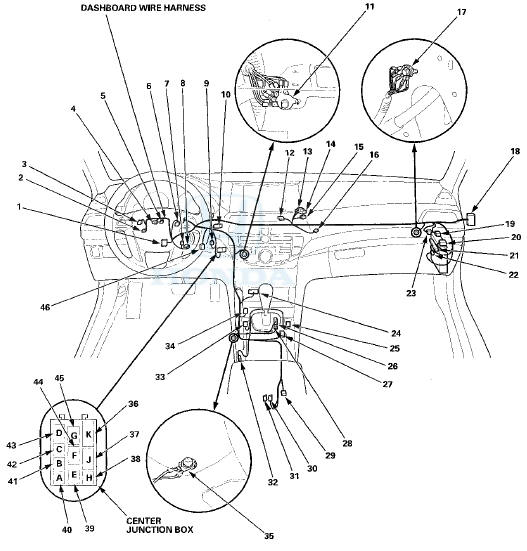 Dashboard Wire Harness (View of middle to passenger's side) (cont'd)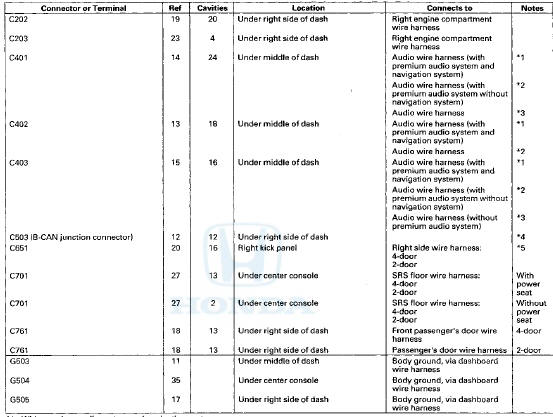 * 1 : With premium audio system and navigation system
*2: With premium audio system without navigation system
*3: Without premium audio system
*4 With 6CD type
*5: With navigation system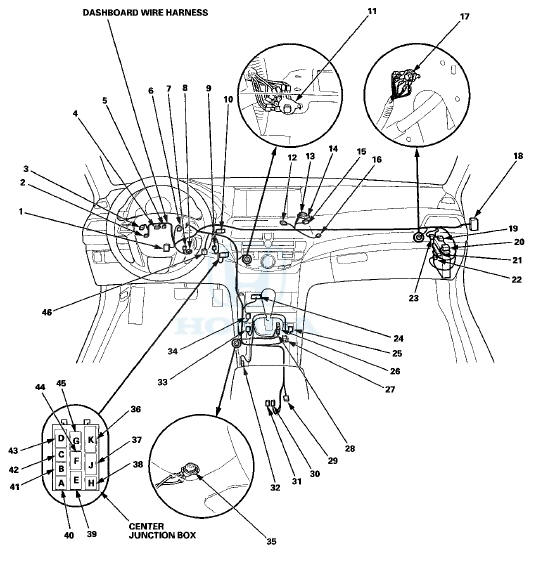 Audio Wire Harness (With Premium Audio System and Navigation System)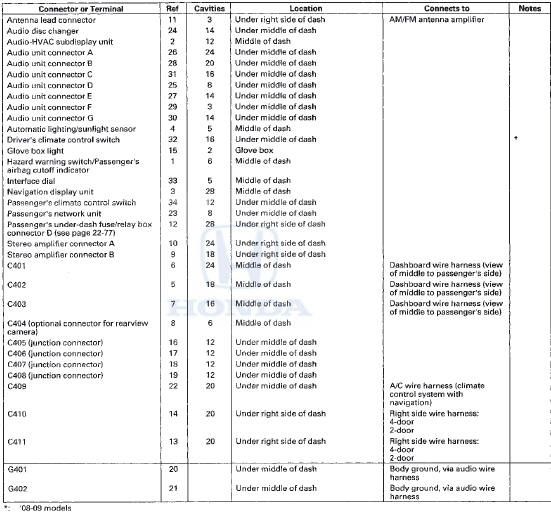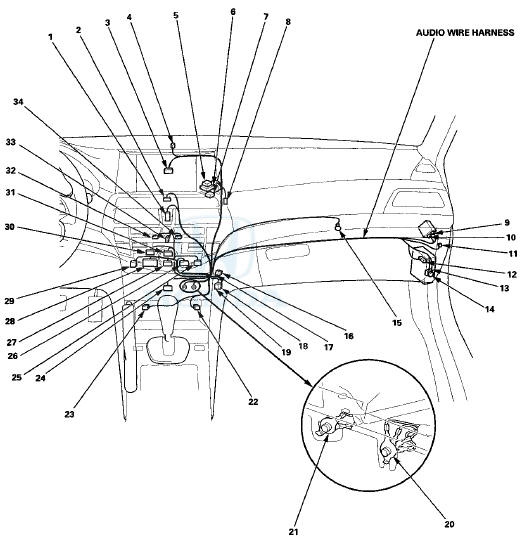 Audio Wire Harness (With Premium Audio System without Navigation System)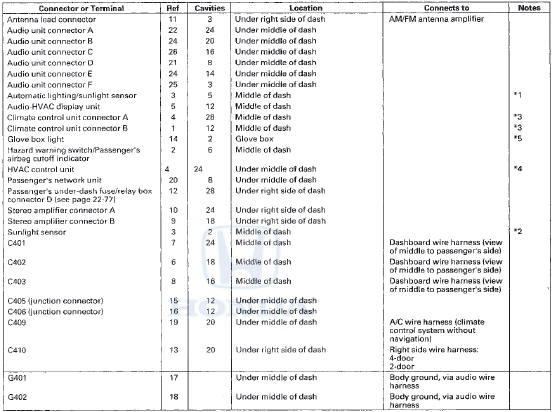 *1: With automatic lighting
*2; Without automatic lighting
*3. With climate control
*4: With HVAC control
*5: '08-09 models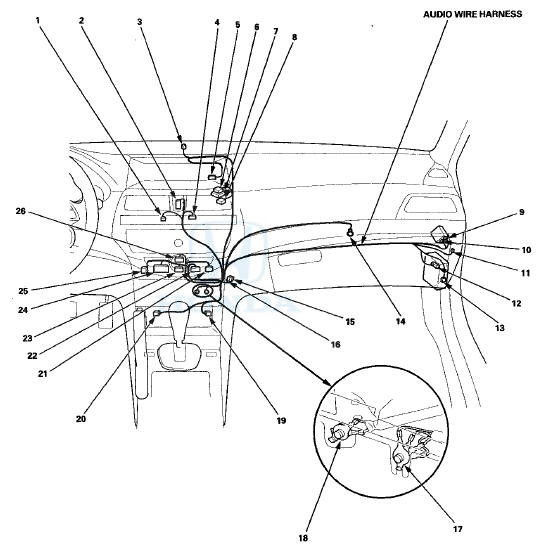 Audio Wire Harness (Without Premium Audio System and Navigation System)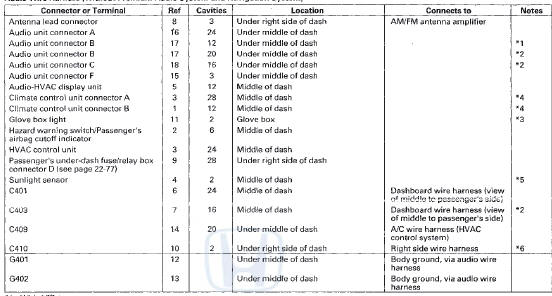 *1: With 1 CD type
*2: With 6CD type
*3: '08-09 models
*4: With climate control
*5: With HVAC control
*6: 2-door with 6CD type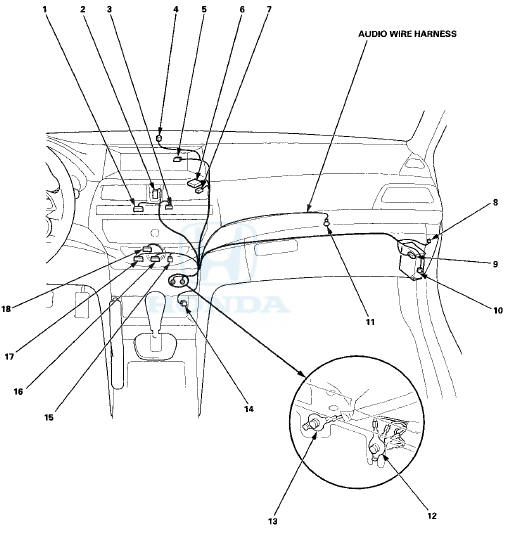 Right Side Wire Harness (4-door)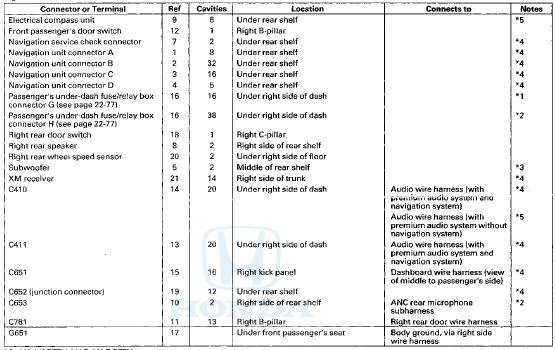 * 1 : LX, LX PZEV, LX-P, LX-P PZEV
* 2 : Except LX, LX PZEV, LX-P, LX-P PZEV
*3: With premium audio system
*4: With navigation system
*5: With premium audio system without navigation system
ANC Rear Microphone Subharness (4-door) (Except LX, LX PZEV, LX-P, LX-P PZEV)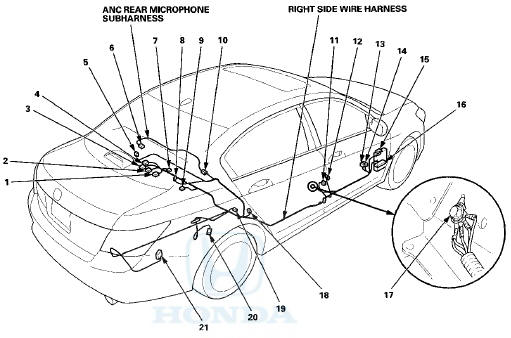 Right Side Wire Harness (2-door)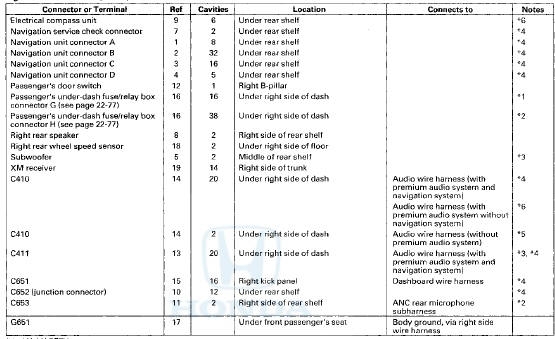 * 1 : LX, LX PZEV
* 2 : Except LX, LX PZEV
* 3 : With premium audio system
*4: With navigation system
* 5 : Without premium audio system
* 6 : With premium audio system without navigation system
ANC Rear Microphone Subharness (2-door) (Except LX, LX PZEV)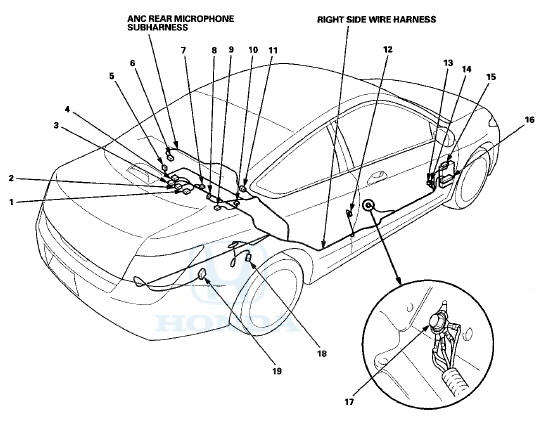 Left Side Wire Harness (4-door)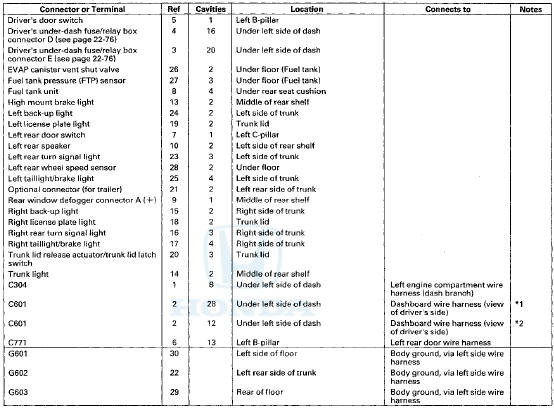 *1: Except LX, LX PZEV, LX-P, LX-P PZEV
*2: LX, LX PZEV, LX-P LX-P PZEV
Rear Window Defogger Ground Wire (4-door)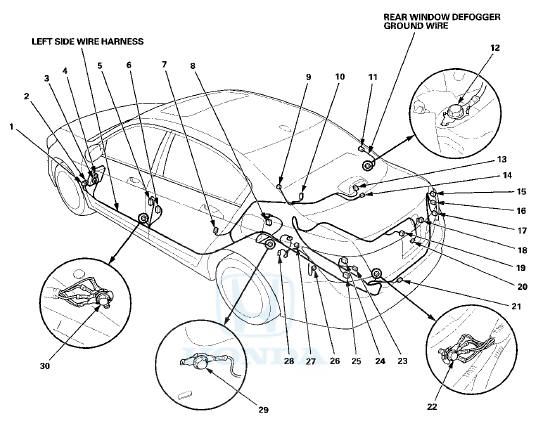 Left Side Wire Harness (2-door)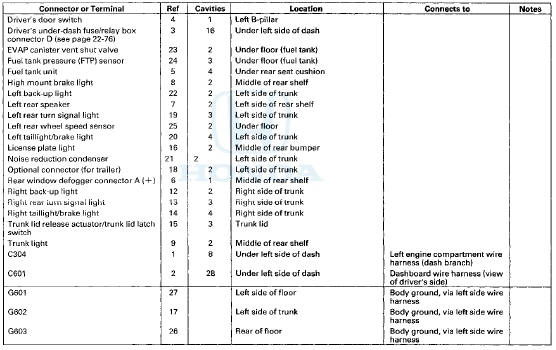 Rear Window Defogger Ground Wire (2-door)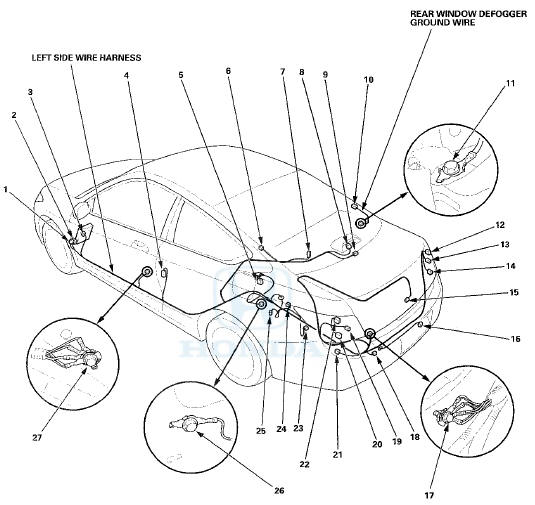 SRS Floor Wire Harness (4-door)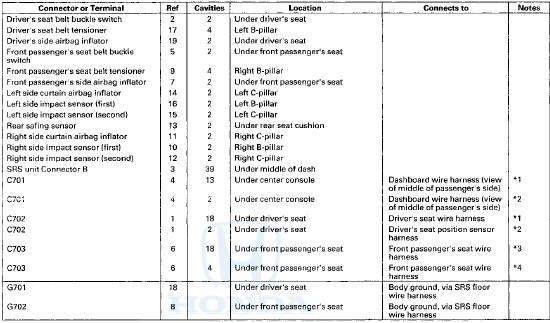 *1: With power seat
*2: Without power seat
*3: With seat heater
*4: Without seat heater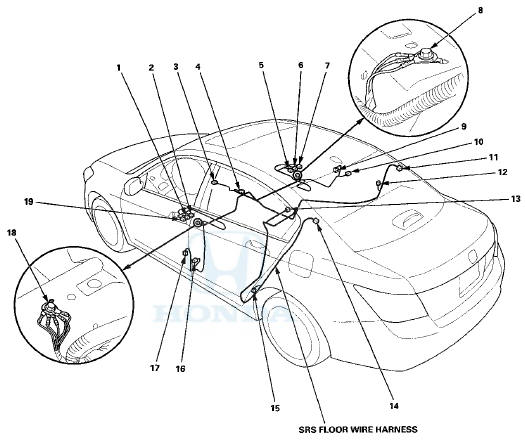 SRS Floor Wire Harness (2-door)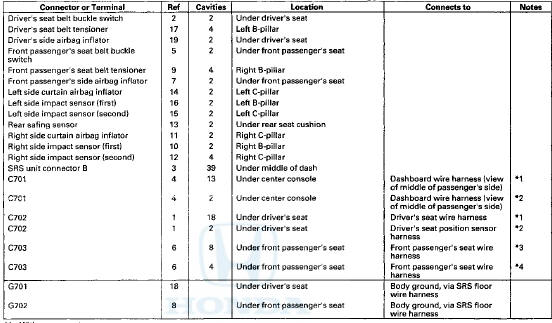 * 1 : With power seat
*2: Without power seat
*3: With seat heater
*4: Without seat heater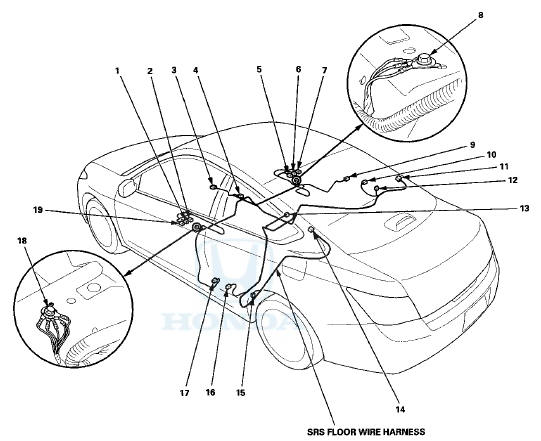 Roof Wire Harness (With moonroof)

*1: With navigation system
*2 With HandsFreeLink control system
Moonroof Subharness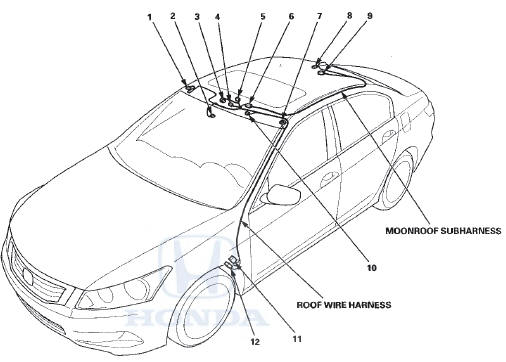 Roof Wire Harness (Without moonroof)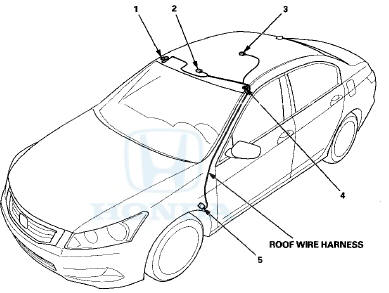 Driver's Door Wire Harness (4-door)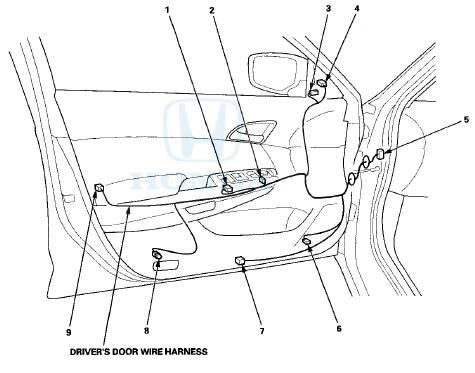 Driver's Door Wire Harness (2-door)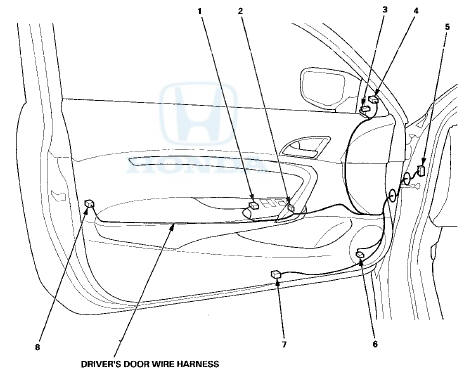 Front Passenger's Door Wire Harness (4-door)

*1: With security
*2: Without security
*3: With AUTO UP/AUTO DOWN function
*4: Without AUTO UP/AUTO DOWN function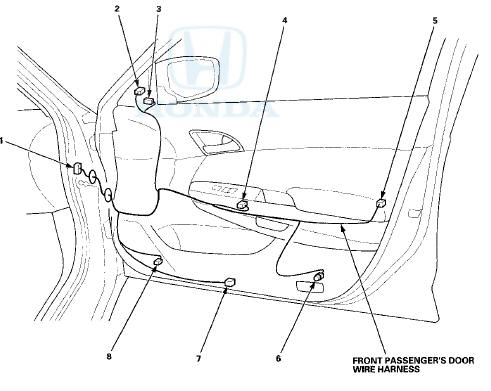 Passenger's Door Wire Harness (2-door)

*1: With AUTO UP/AUTO DOWN function
*2: Without AUTO UP/AUTO DOWN function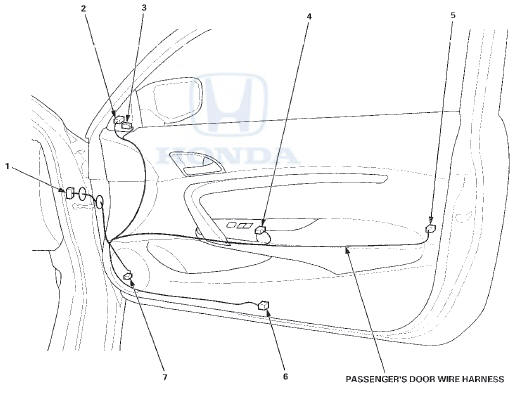 Left Rear Door Wire Harness (4-door)

*1: With security
*2: Without security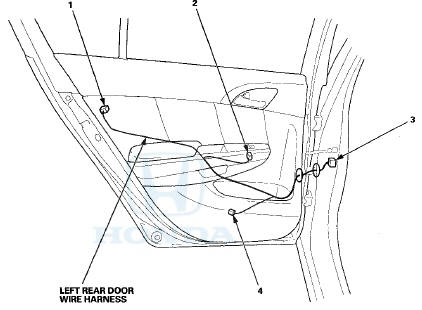 Right Rear Door Wire Harness (4-door)

*1: With security
*2: Without security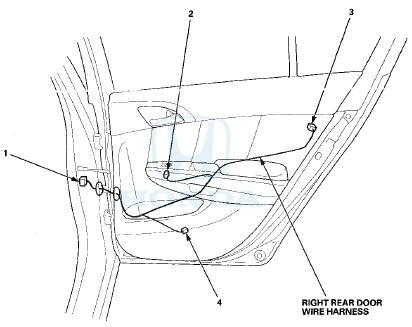 Driver's Seat Wire Harness (With power seat)

*1: With power lumbar support
*2: With seat heater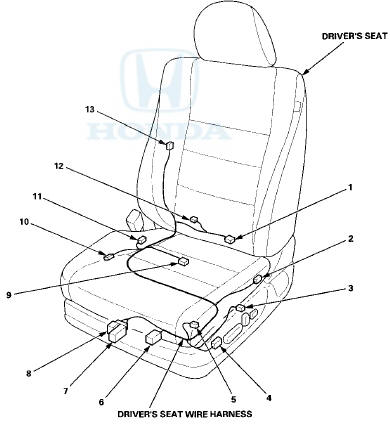 Driver's Seat Position Sensor Harness (Without power seat)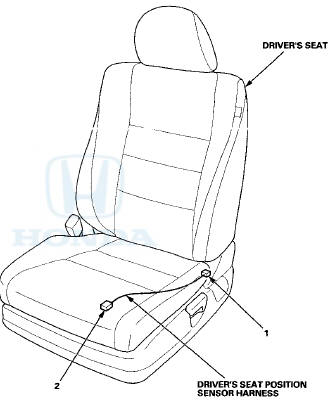 Front Passenger's Seat Wire Harness (4-door)
*1: With seat heater
*2: Without seat heater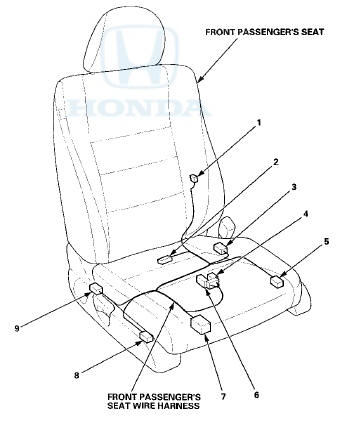 Front Passenger's Seat Wire Harness (2-door)

*1: With seat heater
* 2 : Without seat heater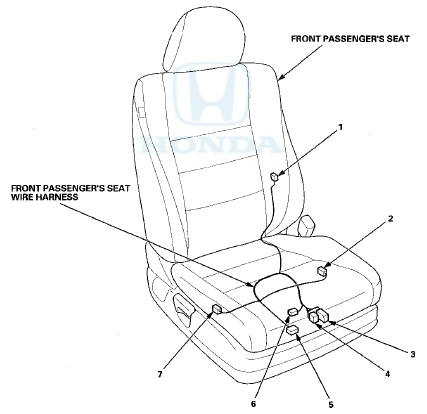 A / C Wire Harness (Climate Control System with Navigation)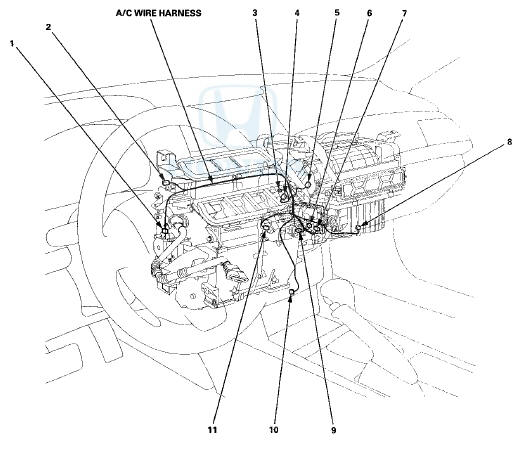 A/C Wire Harness (Climate Control System without Navigation)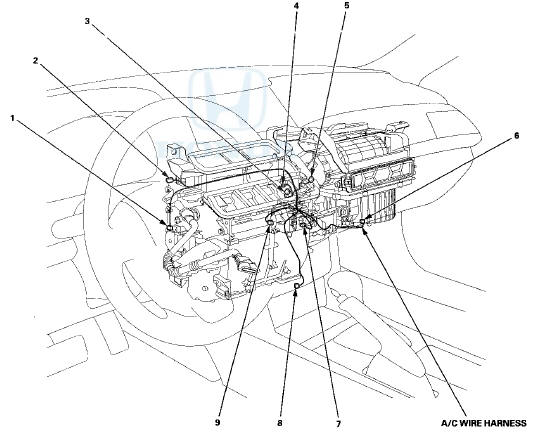 A/C Wire Harness (HVAC Control System)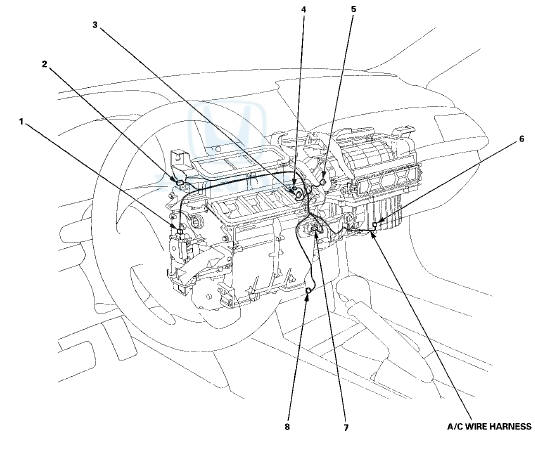 Cable Reel Subharness

* 1 : With HandsFreeLink
*2: With navigation system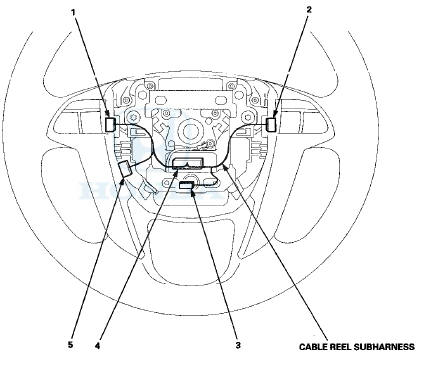 Identification numbers have been assigned to in-line connectors, junction connectors, and terminals. The number is preceded by the letter "C" for connectors, " G " for ground te ...
Connector to Fuse/Relay Box Index Under-hood Fuse/Relay Box *: '08-09 models Driver's Under-dash Fuse/Relay B O M Passenger's Under-dash Fuse/Relay Box *1: LX, LX PZEV, LX-P, LX-P PZE ...
See also:
Replacing a Headlight Bulb
Your vehicle has halogen headlight bulbs. When replacing a bulb, handle it by its base, and protect the glass from contact with your skin or hard objects. If you touch the glass, clean it wi ...
System Description
Headlights System Description The headlight system Is composed of the driver's MICU, the passenger's MICU, the headlight and dimmer/flash-to-pass switches (Inside the combination light switch), th ...
Trunk Lid Adjustment
1. Remove the rear shelf (see page 20-128). 2. Pry up the notches (A) to release the rear hooks (B), and pull up the cap (C) to release the side hooks (D), then remove the cap. 3. Slightly lo ...