Honda Accord: Connector Index
Identification numbers have been assigned to in-line connectors, junction connectors, and terminals. The number is preceded by the letter "C" for connectors, " G " for ground terminals, or "T" for non-ground terminals.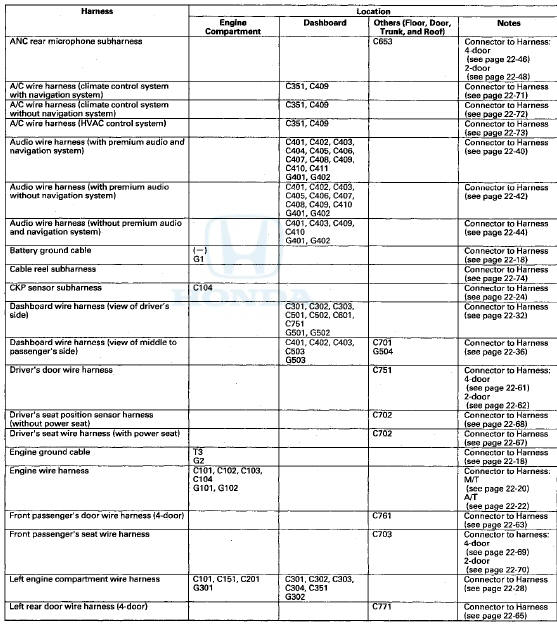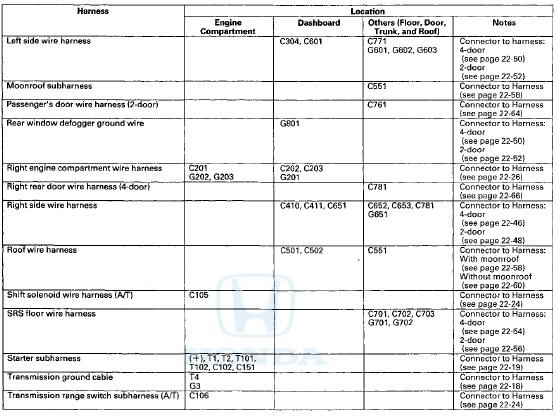 Starter Subharness Engine Wire Harness (M/T) Engine Wire Harness ( A / T ) *1: PZEV *2: Except PZEV CKP Sensor Subharness Shift Solenoid Wire Harness (A/T) Transmission Rang ...
See also:
Timing Belt
V6 models The timing belt should be replaced according to the Maintenance Minder TM. Replace the timing belt every 60,000 miles (100,000 km) if you regularly drive your vehicle in any of the ...
Countershaft Disassembly, Inspection, and Reassembly
1. Inspect the needle bearings for galling and rough movement. 2. Inspect the splines for excessive wear and damage. 3. Check the shaft bearing surface for scoring and excessive wear. 4. Lubr ...
Front Seat Removal/Installation
Special Tools Required KTC Trim Tool Set SOJATP2014* *Available through the Honda Tool and Equipment Program; call 888-424-6857 SRS components are located in this area. Review the SRS component ...