Honda Accord: Reverse Lockout
6-speed manual transmission only
The manual transmission has a lockout so you cannot accidentally shift from any forward gear to reverse while the vehicle is moving at a certain speed. If you cannot shift to reverse when the vehicle is stopped, do the following: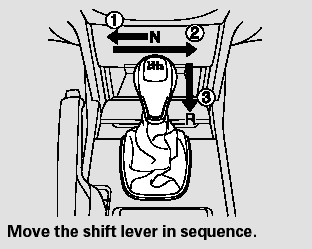 1. With the clutch pedal pressed, move the shift lever to the first/ second gear side of the neutral gate, then shift to reverse.
2. If you are still unable to shift to reverse, apply the parking brake, and turn the ignition key to the ACCESSORY (I) or LOCK (0) position.
3. Press the clutch pedal, and shift to reverse.
4. With the clutch pedal still pressed, start the engine.
If you need to use this procedure to shift to reverse, your vehicle may be developing a problem. Have it checked by your dealer.
If you exceed the maximum speed for the gear you are in, the engine speed will enter into the tachometer's red zone. If this occurs, you may feel the engine cut in and out. This is caused by ...
See also:
A/T Clutch Pressure Control Solenoid Valve A Replacement
1. Remove the intake air duct 2. Disconnect the A/T clutch pressure control solenoid valve A connector. 3. Remove the bolts securing the ATF cooler line brackets (B), then remove A/T clutch pres ...
Brake Booster Test
Functional Test 1. With the ignition switch in LOCK (0), press the brake pedal several times to deplete the vacuum reservoir, then press the brake pedal hard and hold it for 15 seconds. If the bra ...
Clutch Inspection
1. Inspect the 4th and 5th clutch pistons and the clutch piston check valves (A). 2. If the clutch piston check valve is loose or damaged, replace the clutch piston. 3. Check the spring retain ...