Honda Accord: Drive Belt Auto-tensioner Removal/Installation
1. Remove the drive belt (see page 4-30).
2. Remove the power steering (P/S) fluid reservoir from the holder.
3. Remove the P/S pump (A) without disconnecting the P/S hoses, then remove the P/S hose bracket (B).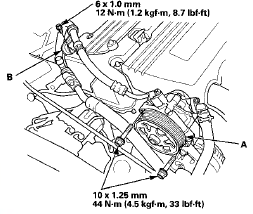 4. Remove the auto-tensioner.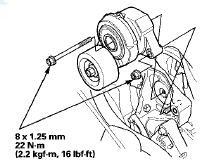 5. Install the auto-tensioner in the reverse order of removal.
Special Tools Required Belt Tension Release Tool Snap-on YA9317 or equivalent, commercially available 1. Turn the ignition switch to ON (II), and make sure to turn the A/C switch OFF. Turn the ign ...
1. Remove the auto-tensioner (see page 4-31). 2. Clamp the auto-tensioner (A) by using two 8 mm bolts (B) and a vise (C) as shown. Do not clamp the auto-tensioner itself, then remove the tensione ...
See also:
Power Assist Check
tires and wheels at the correct tire pressure. 1. Check the power steering fluid level (see page 17-28). 2. Start the engine, let it idle, and turn the steering wheel from lock to lock several ...
Damper/Spring Removal and Installation
Removal 1. Raise and support the vehicle (see page 1-13). 2. Remove the front wheel. 3. Remove the wheel speed sensor harness bracket mounting bolt (A). 4. Remove the damper pinch b ...
Rear Seat-back Cover Replacement
2-door NOTE: - Put on gloves to protect your hands. - Take care not to tear or damage the seat covers. 1. Remove the seat-back (see page 20-239). 2. Remove all of the head restraints. 3. ...