Honda Accord: Drive Belt Auto-tensioner Removal/Installation
1. Remove the drive belt (see page 4-30).
2. Remove the power steering (P/S) fluid reservoir from the holder.
3. Remove the P/S pump (A) without disconnecting the P/S hoses, then remove the P/S hose bracket (B).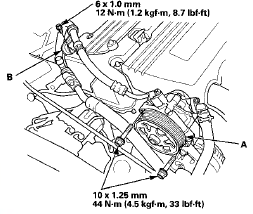 4. Remove the auto-tensioner.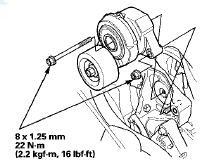 5. Install the auto-tensioner in the reverse order of removal.
Special Tools Required Belt Tension Release Tool Snap-on YA9317 or equivalent, commercially available 1. Turn the ignition switch to ON (II), and make sure to turn the A/C switch OFF. Turn the ign ...
1. Remove the auto-tensioner (see page 4-31). 2. Clamp the auto-tensioner (A) by using two 8 mm bolts (B) and a vise (C) as shown. Do not clamp the auto-tensioner itself, then remove the tensione ...
See also:
Maintenance Minder
Your vehicle displays engine oil life and maintenance service items on the information display to show you when you should have your dealer do engine oil replacement and indicated maintenanc ...
Brake System Bleeding
NOTE: - Do not reuse the drained fluid. Use only new Honda DOT 3 Brake Fluid from an unopened container. Using a non-Honda brake fluid can cause corrosion and shorten the life of the system. - ...