Honda Accord: Drive Belt Auto-tensioner Removal/Installation
1. Remove the drive belt (see page 4-30).
2. Remove the power steering (P/S) fluid reservoir from the holder.
3. Remove the P/S pump (A) without disconnecting the P/S hoses, then remove the P/S hose bracket (B).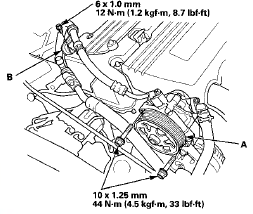 4. Remove the auto-tensioner.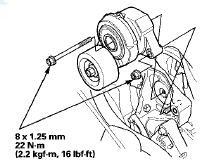 5. Install the auto-tensioner in the reverse order of removal.
Special Tools Required Belt Tension Release Tool Snap-on YA9317 or equivalent, commercially available 1. Turn the ignition switch to ON (II), and make sure to turn the A/C switch OFF. Turn the ign ...
1. Remove the auto-tensioner (see page 4-31). 2. Clamp the auto-tensioner (A) by using two 8 mm bolts (B) and a vise (C) as shown. Do not clamp the auto-tensioner itself, then remove the tensione ...
See also:
Side Defogger Vent Trim Removal/Installation
Special Tools Required KTC Trim Tool Set SOJATP2014* * Available through the Honda Tool and Equipment Program; call 888-424-6857 Driver's Side NOTE: - Take care not to scratch the dashboard or ...
A/C Condenser Replacemen
1. Recover the refrigerant with a recovery/recycling charging station (see page 21-80). 2. Remove the front grille cover (see page 20-274). 3. Remove the intake air duct and the water separator ...