Honda Accord: Drive Belt Auto-tensioner Removal/Installation
1. Remove the drive belt (see page 4-30).
2. Remove the power steering (P/S) fluid reservoir from the holder.
3. Remove the P/S pump (A) without disconnecting the P/S hoses, then remove the P/S hose bracket (B).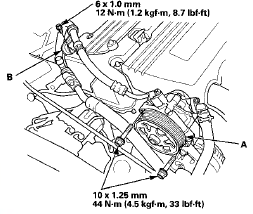 4. Remove the auto-tensioner.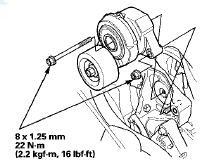 5. Install the auto-tensioner in the reverse order of removal.
Special Tools Required Belt Tension Release Tool Snap-on YA9317 or equivalent, commercially available 1. Turn the ignition switch to ON (II), and make sure to turn the A/C switch OFF. Turn the ign ...
1. Remove the auto-tensioner (see page 4-31). 2. Clamp the auto-tensioner (A) by using two 8 mm bolts (B) and a vise (C) as shown. Do not clamp the auto-tensioner itself, then remove the tensione ...
See also:
Component Location Index
With navigation system ...
System Description
Body Controller Area Network (B-CAN) and Fast Controller Area Network (F-CAN) The body controller area network (B-CAN) and the fast controller area network (F-CAN) share information between mult ...
Synchro Ring and Gear Inspection
1. Inspect the synchro rings for scoring, cracks, and damage (A). Example of synchro ring teeth 2. Inspect the inside of each synchro ring (B) for wear. Inspect the ...