Honda Accord: Drive Belt Auto-tensioner Removal/Installation
1. Remove the drive belt (see page 4-30).
2. Remove the power steering (P/S) fluid reservoir from the holder.
3. Remove the P/S pump (A) without disconnecting the P/S hoses, then remove the P/S hose bracket (B).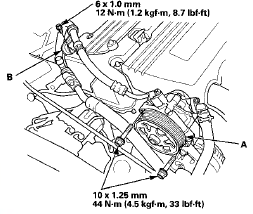 4. Remove the auto-tensioner.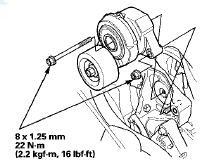 5. Install the auto-tensioner in the reverse order of removal.
Special Tools Required Belt Tension Release Tool Snap-on YA9317 or equivalent, commercially available 1. Turn the ignition switch to ON (II), and make sure to turn the A/C switch OFF. Turn the ign ...
1. Remove the auto-tensioner (see page 4-31). 2. Clamp the auto-tensioner (A) by using two 8 mm bolts (B) and a vise (C) as shown. Do not clamp the auto-tensioner itself, then remove the tensione ...
See also:
DTC Troubleshooting
DTC P0461: Fuel Level Sensor (Fuel Gauge Sending Unit) Circuit Range/Performance Problem NOTE: - Before you troubleshoot record all freeze data and any on-board snapshot, and review the general ...
Transmission End Crankshaft Oil Seal Installation - In Car.
Special Tools Required Driver Handle, 15 x 135L 07749-0010000 Oil Seal Driver Attachment, 96 mm 07ZAD-PNAA100 1 Remove the transmission: - Manual transmission (see page 13-7) - Automatic transmis ...
Stabilizer Link Removal/Installation
1. Raise and support the vehicle (see page 1 -13). 2. Remove the front wheel. 3. Remove the self-locking nut (A) and the flange nut (B) while holding the respective joint pin (C) with a hex wr ...