Honda Accord: Washer Tube Replacemen
1. Remove the right front inner fender (see page 20-290).
2. Remove the windshield washer nozzles and clips, then remove the tubes.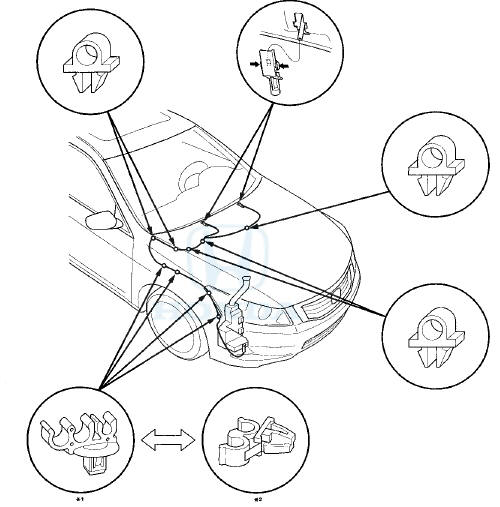 *1:USA models
*2: Canada models
3. Install in the reverse order of removal. Take care not to pinch the washer tubes. Check the washer operation.
4-door 1. Turn the wiper switch ON, and then back OFF. 2. W h e n t h e w i p e r a r m s s t o p at t h e p a r k p o s i t i o n , c o n f i rm that t h e y a r e at t h e s t a n d a r d posi ...
See also:
Emblem/Sticker Replacement
2-door NOTE: When removing emblems/sticker, take care not to scratch the body. 1. To remove the front "H" emblem, remove the front bumper (see page 20-255). 2. Clean the body surfaces ...
Wheel Bearing End Play Inspection
1. Raise and support the vehicle (see page 1-13). 2. Remove the wheels. 3 . Install suitable flat washers (A) and the wheel nuts. Tighten the nuts to the specified torque to hold the brake d ...
System Description
Overview The electrical compass shows the azimuth information in 8-directions (N, NE, E, SE, S, SW, W, NW) to the audio-HVAC display unit via the audio unit. Starting Operation When the igniti ...