Honda Accord: Tensioner Pulley Replacement
1. Remove the auto-tensioner (see page 4-31).
2. Clamp the auto-tensioner (A) by using two 8 mm bolts (B) and a vise (C) as shown. Do not clamp the auto-tensioner itself, then remove the tensioner pulley bolt (D), then remove the tensioner pulley (E).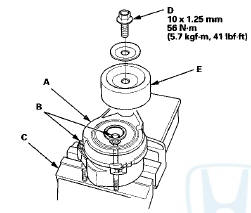 3. Install the tensioner pulley in the reverse order of removal.
1. Remove the drive belt (see page 4-30). 2. Remove the power steering (P/S) fluid reservoir from the holder. 3. Remove the P/S pump (A) without disconnecting the P/S hoses, then remove the P/ ...
Removal 1. Do the battery terminal disconnection procedure (see page 22-91). 2. Remove the drive belt (see page 4-30). 3. Remove the two bolts securing the alternator. 4. Disconnect the alt ...
See also:
Sunglasses Holder
To open the sunglasses holder, push then release the indent. It will unlatch and swing down. To close it, push it until it latches. Make sure the holder is closed while you are driving. S ...
Changing the Engine Oil and Oil Filter
You must change the engine oil and oil filter regularly in order to maintain the engine's lubrication. The engine may be damaged if they are not changed regularly. Change the oil and filter in ...
Accessory Power Socket Trim Removal/Installation
Special Tools Required KTC Trim Tool Set SOJATP2014* *Available through the Honda Tool and Equipment Program; call 888-424-6857 NOTE: - Take care not to scratch the console. - Use the approp ...