Honda Accord: Countershaft Disassembly, Inspection, and Reassembly
1. Inspect the needle bearings for galling and rough movement.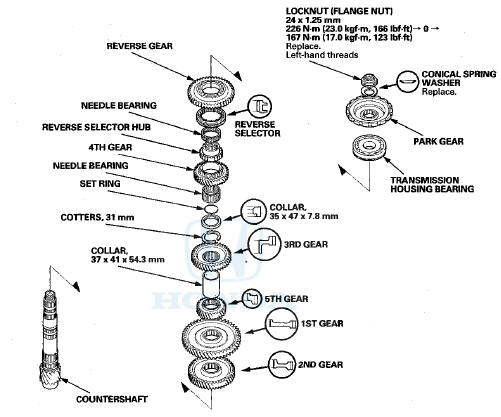 2. Inspect the splines for excessive wear and damage.
3. Check the shaft bearing surface for scoring and excessive wear.
4. Lubricate all parts with ATF during assembly.
5. Install the conical spring washer, the reverse selector, the 35 x 47 x 7.8 mm collar, and all gears in the direction shown.
6. Replace the locknut and the conical spring washer with new ones when assembling the transmission. The countershaft locknut has left-hand threads.
7. Some reverse selector hubs and 3rd gears are press-fitted to the countershaft; special tools are needed to remove them (see page 14-290) and to install them (see page 14-290).
1. Remove the mainshaft transmission housing bearing (seepage 14-270). 2. Install the thrust needle bearing ( A ) , 5th gear ( B ) , the needle bearing (C), the thrust needle bearing (D), the 41 ...
1. Install a commercially available bearing separator on 4th gear (A). Set the countershaft (B) on a press with a spacer (C) between the press and the countershaft, and remove the reverse selector ...
See also:
Grab Handle Removal/Installation
Special Tools Required KTC Trim Tool Set SOJATP2014* *Available through the Honda Tool and Equipment Program; call 888-424-6857 NOTE: - Use the appropriate tool from the KTC trim tool set to a ...
Trunk Main Switch*
The trunk main switch disables the trunk release button on the remote transmitter and the trunk release button on the trunk lid to protect luggage in the trunk. 1. Make sure the rear seat-bac ...
Inspection and Maintenance
For your safety, perform all listed inspections and maintenance to keep your vehicle in good condition. If you become aware of any abnormality (noise, smell, insufficient brake fluid, oil resi ...