Honda Accord: Climate Control System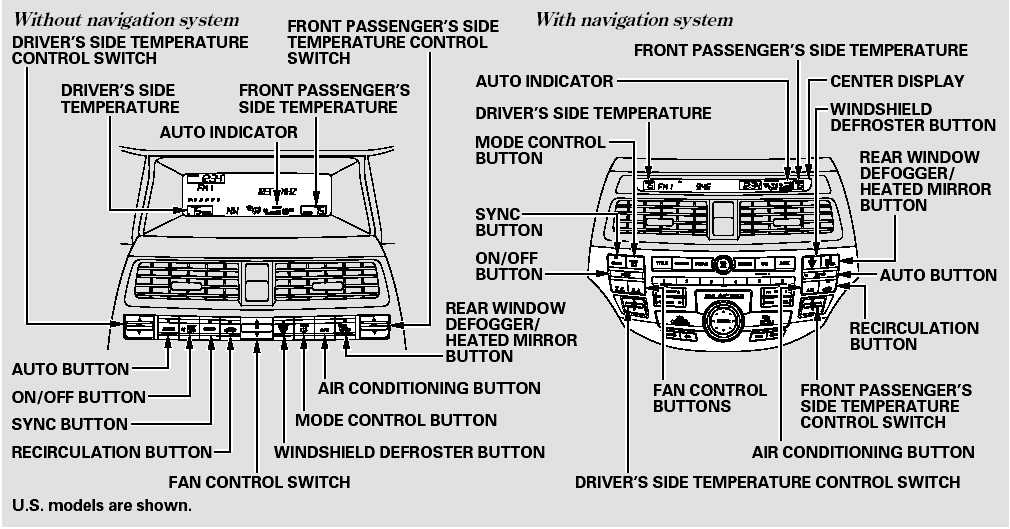 EX-L, Canadian EX, and all V6
LX and U.S. EX Fan Control Turn this dial to increase or decrease the fan speed and airflow. Temperature Control Turning this dial clockwise increases the temperature of the airflow. Air Co ...
On models with navigation system The climate control system for your vehicle can also be operated using the voice control system. See the navigation system manual for complete details. ...
See also:
Wheel Bearing End Play Inspection
1. Raise and support the vehicle (see page 1-13). 2. Remove the wheels. 3 . Install suitable flat washers (A) and the wheel nuts. Tighten the nuts to the specified torque to hold the brake d ...
Transmission Disassembly
Exploded View-Clutch Housing 1.DIFFERENTIAL ASSEMBLY 2.SHIFT FORK ASSEMBLY 3.6 mm FLANGE BOLT 13 N-m (1.3 kgf-m, 9.4 Ibf-ft) 4.BEARING SET PLATE 5.COUNTERSHAFT ASSEMBLY 6.NEEDLE BEARING 7.OI ...
VSA Sensor Neutral Position Memorization
NOTE: Do not press the brake pedal during this procedure. 1. Park the vehicle on a flat and level surface, with the steering wheel in the straight ahead position. 2. With the ignition switch i ...