Honda Accord: Adding Engine Oil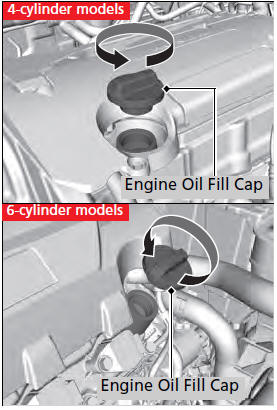 1. Unscrew and remove the engine oil fill cap.
2. Add oil slowly.
3. Reinstall the engine oil fill cap, and tighten it securely.
4. Wait for three minutes and recheck the engine oil dipstick.
If any oil spills, wipe it up immediately. Spilled oil may damage the engine compartment components.
NOTICE
Do not fill the engine oil above the upper mark.
Overfilling the engine oil can result in leaks and engine damage.
We recommend that you check the engine oil level every time you refuel. Park the vehicle on level ground. Wait approximately three minutes after turning the engine off before you check the oil ...
You must change the engine oil and oil filter regularly in order to maintain the engine's lubrication. The engine may be damaged if they are not changed regularly. Change the oil and filter in ...
See also:
EVAP Canister Vent Shut Valve Replacement
1 o Disconnect the EVAP canister vent shut valve 2P connector (A). 2. Remove the cap (B). 3. Remove the EVAP canister vent shut valve (C). 4. Install the parts in the reverse order of remova ...
Damper/Spring Removal and Installation
Removal 1. Raise and support the vehicle (see page 1-13). 2. Remove the front wheel. 3. Remove the wheel speed sensor harness bracket mounting bolt (A). 4. Remove the damper pinch b ...
A/C Condenser Replacemen
1. Recover the refrigerant with a recovery/recycling charging station (see page 21-80). 2. Remove the front grille cover (see page 20-274). 3. Remove the intake air duct and the water separator ...