Honda Accord: Adding Engine Oil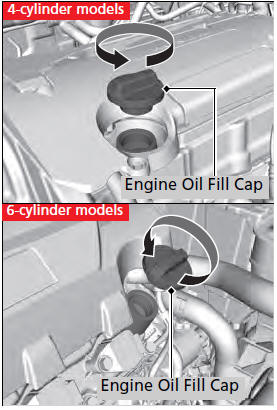 1. Unscrew and remove the engine oil fill cap.
2. Add oil slowly.
3. Reinstall the engine oil fill cap, and tighten it securely.
4. Wait for three minutes and recheck the engine oil dipstick.
If any oil spills, wipe it up immediately. Spilled oil may damage the engine compartment components.
NOTICE
Do not fill the engine oil above the upper mark.
Overfilling the engine oil can result in leaks and engine damage.
We recommend that you check the engine oil level every time you refuel. Park the vehicle on level ground. Wait approximately three minutes after turning the engine off before you check the oil ...
You must change the engine oil and oil filter regularly in order to maintain the engine's lubrication. The engine may be damaged if they are not changed regularly. Change the oil and filter in ...
See also:
EVAP Canister Replacement
1. Raise the vehicle on a lift. 2. Remove the wheel sensor harness clamps (A) 3. Support the rear subframe with a transmission jack and a wooden block as shown. 4. Remove the rear subframe m ...
Rear Seat-back Cover Replacement
2-door NOTE: - Put on gloves to protect your hands. - Take care not to tear or damage the seat covers. 1. Remove the seat-back (see page 20-239). 2. Remove all of the head restraints. 3. ...
Fuel Line/Quick-Connect Fitting Removal
NOTE: Before you work on the fuel lines and fittings, read the Fuel Line/Quick-Connect Fitting Precautions (see page 11-313). 1. If equipped, remove the quick-connect fitting cover from the fuel ...