Honda Accord: Adding Engine Oil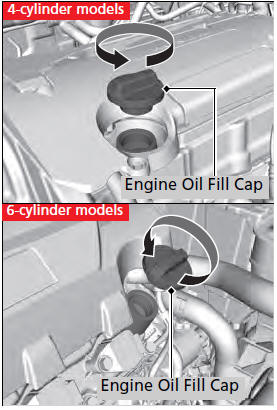 1. Unscrew and remove the engine oil fill cap.
2. Add oil slowly.
3. Reinstall the engine oil fill cap, and tighten it securely.
4. Wait for three minutes and recheck the engine oil dipstick.
If any oil spills, wipe it up immediately. Spilled oil may damage the engine compartment components.
NOTICE
Do not fill the engine oil above the upper mark.
Overfilling the engine oil can result in leaks and engine damage.
We recommend that you check the engine oil level every time you refuel. Park the vehicle on level ground. Wait approximately three minutes after turning the engine off before you check the oil ...
You must change the engine oil and oil filter regularly in order to maintain the engine's lubrication. The engine may be damaged if they are not changed regularly. Change the oil and filter in ...
See also:
Lift and Support Points
NOTE: If you are going to remove heavy components such as suspension or the fuel tank from the rear of the vehicle, first support the front of the vehicle with tall safety stands. When substantial ...
Disc Changer Error Messages (Models without navigation system)
The chart on the right explains the error messages you may see in the display while playing a disc. If you see an error message in the display while playing a disc, press the eject button. Af ...
Driver's Seat Position Sensor Replacement
Removal (Power seat) NOTE: Do not t u r n t h e i g n i t i o n s w i t c h t o ON (II), a n d do not connect t h e battery cable w h i l e r e m o v i n g t he d r i v e r ' s seat p o s i t i o n ...