Honda Accord: Adding Engine Oil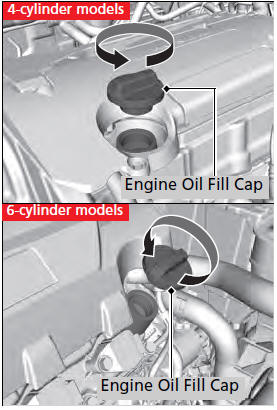 1. Unscrew and remove the engine oil fill cap.
2. Add oil slowly.
3. Reinstall the engine oil fill cap, and tighten it securely.
4. Wait for three minutes and recheck the engine oil dipstick.
If any oil spills, wipe it up immediately. Spilled oil may damage the engine compartment components.
NOTICE
Do not fill the engine oil above the upper mark.
Overfilling the engine oil can result in leaks and engine damage.
We recommend that you check the engine oil level every time you refuel. Park the vehicle on level ground. Wait approximately three minutes after turning the engine off before you check the oil ...
You must change the engine oil and oil filter regularly in order to maintain the engine's lubrication. The engine may be damaged if they are not changed regularly. Change the oil and filter in ...
See also:
Ignition Switch Test
NOTE: SRS components are located in the area. Review the SRS component locations 4-door (see page 24-21), 2-door (see page 24-23), and precautions and procedures (see page 24-25) before doing repai ...
DTC Troubleshooting
DTC B10A2: Driver's MICU (EEPROM) Error NOTE: If you are troubleshooting multiple DTCs, be sure to follow the instructions in B-CAN System Diagnosis Test Mode A (see page 22-134). 1. Clear the D ...
DTC Troubleshooting
DTC P0101: MAF Sensor Circuit Range/Performance Problem NOTE: - Before you troubleshoot, record all freeze data and any on-board snapshot, and review the general troubleshooting information (see ...