Honda Accord: Adding Engine Oil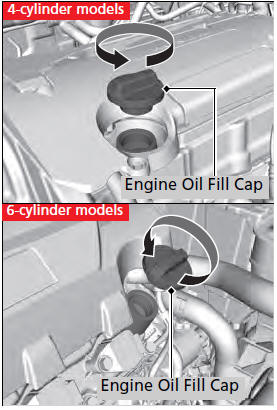 1. Unscrew and remove the engine oil fill cap.
2. Add oil slowly.
3. Reinstall the engine oil fill cap, and tighten it securely.
4. Wait for three minutes and recheck the engine oil dipstick.
If any oil spills, wipe it up immediately. Spilled oil may damage the engine compartment components.
NOTICE
Do not fill the engine oil above the upper mark.
Overfilling the engine oil can result in leaks and engine damage.
We recommend that you check the engine oil level every time you refuel. Park the vehicle on level ground. Wait approximately three minutes after turning the engine off before you check the oil ...
You must change the engine oil and oil filter regularly in order to maintain the engine's lubrication. The engine may be damaged if they are not changed regularly. Change the oil and filter in ...
See also:
Precautions and Procedures
General Precautions NOTE: Some systems store data in memory that is lost when the battery is disconnected. Before disconnecting the battery, refer to Battery Terminal Disconnection and Reconnectio ...
Driving
This section gives you tips on starting the engine under various conditions, and how to operate the manual and automatic transmissions. It also includes important information on parking your ...
Wheel Runout Inspection
1. Raise and support the vehicle (see page 1 -13). 2. Check for a bent or deformed wheel. 3. Set up the dial gauge as shown, and measure the axial runout by turning the wheel. Front and rear w ...