Honda Accord: Oil Check
We recommend that you check the engine oil level every time you refuel.
Park the vehicle on level ground.
Wait approximately three minutes after turning the engine off before you check the oil.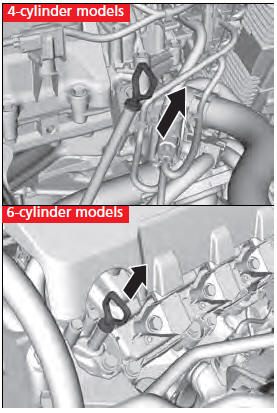 1. Remove the dipstick (orange handle).
2. Wipe the dipstick with a clean cloth or paper towel.
3. Insert the dipstick back all the way into its hole.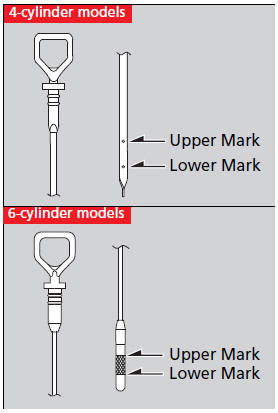 4. Remove the dipstick again, and check the level. It should be between the upper and lower marks. Add oil if necessary.
If the oil level is near or below the lower mark, slowly add oil being careful not to overfill.
Oil is a major contributor to your engine's performance and longevity. If you drive the vehicle with insufficient or deteriorated oil, the engine may fail or be damaged. This seal indicates ...
1. Unscrew and remove the engine oil fill cap. 2. Add oil slowly. 3. Reinstall the engine oil fill cap, and tighten it securely. 4. Wait for three minutes and recheck the engine oil dipsti ...
See also:
Wear Indicators
The groove where the wear indicator is located is 1/16 inch (1.6 mm) shallower than elsewhere on the tire. If the tread has worn so that the indicator is exposed, replace the tire. Worn out ...
Damper/Spring Removal and Installation
Removal 1. Raise and support the vehicle (see page 1-13). 2. Remove the rear wheel. 3. Fold down the rear seat-back, then remove the lid (A). NOTE: For 4-door, lift up the tab (B) inside und ...
Component Location Index
With navigation system Without navigation system ...