Honda Accord: Oil Check
We recommend that you check the engine oil level every time you refuel.
Park the vehicle on level ground.
Wait approximately three minutes after turning the engine off before you check the oil.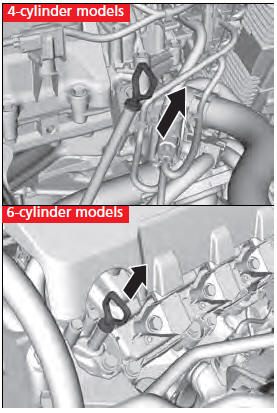 1. Remove the dipstick (orange handle).
2. Wipe the dipstick with a clean cloth or paper towel.
3. Insert the dipstick back all the way into its hole.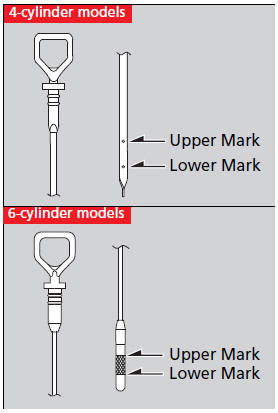 4. Remove the dipstick again, and check the level. It should be between the upper and lower marks. Add oil if necessary.
If the oil level is near or below the lower mark, slowly add oil being careful not to overfill.
Oil is a major contributor to your engine's performance and longevity. If you drive the vehicle with insufficient or deteriorated oil, the engine may fail or be damaged. This seal indicates ...
1. Unscrew and remove the engine oil fill cap. 2. Add oil slowly. 3. Reinstall the engine oil fill cap, and tighten it securely. 4. Wait for three minutes and recheck the engine oil dipsti ...
See also:
Symptom Troubleshooting
Immobilizer Indicator blinks NOTE; Before troubleshooting, check the Items listed In "General Check before Troubleshooting". 1. Turn the ignition switch to LOCK (0). 2. Connect the H ...
Selector Knob
Most audio system functions can be controlled by standard buttons, bars, and knobs. In addition, you can access some functions by using the selector knob on the audio system. The knob turns ...
Using Automatic Climate Control
The automatic climate control system maintains the interior temperature you select. The system also selects the proper mix of heated or cooled air that will as quickly as possible, raise or l ...