Honda Accord: Oil Check
We recommend that you check the engine oil level every time you refuel.
Park the vehicle on level ground.
Wait approximately three minutes after turning the engine off before you check the oil.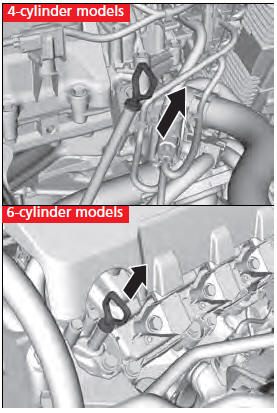 1. Remove the dipstick (orange handle).
2. Wipe the dipstick with a clean cloth or paper towel.
3. Insert the dipstick back all the way into its hole.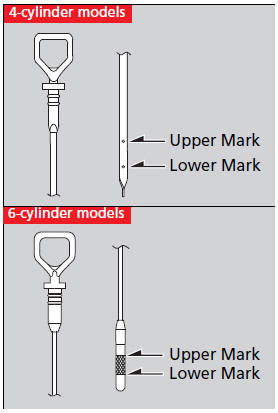 4. Remove the dipstick again, and check the level. It should be between the upper and lower marks. Add oil if necessary.
If the oil level is near or below the lower mark, slowly add oil being careful not to overfill.
Oil is a major contributor to your engine's performance and longevity. If you drive the vehicle with insufficient or deteriorated oil, the engine may fail or be damaged. This seal indicates ...
1. Unscrew and remove the engine oil fill cap. 2. Add oil slowly. 3. Reinstall the engine oil fill cap, and tighten it securely. 4. Wait for three minutes and recheck the engine oil dipsti ...
See also:
FTP Sensor Replacement
1. Remove the bolt (A), and disconnect the EVAP canister vent shut valve 2P connector (B), the FTP sensor 3P connector (C), and the hoses (D). 2. Remove the bolts (E), and move the EVAP canister ...
TripMeter
The trip meter shows the number of miles (U.S.) or kilometers (Canada) driven since you last reset it. There are two trip meters: Trip A and Trip B. Switch between these displays by pressing ...
Steering Wheel Rotational Play Check
1. Set the front wheels in the straight ahead position. 2. Measure how far you can turn the steering wheel left and right without moving the front wheels. -If the play is within the limit, the ...