Honda Accord: Mainshaft Disassembly, Inspection, and Reassembly
1. Inspect the thrust needle bearings and the needle bearings for galling and rough movement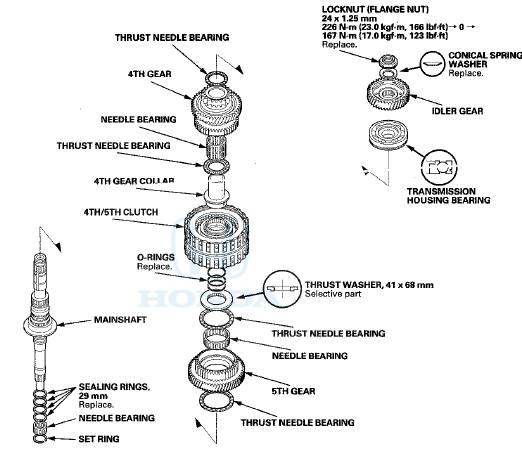 2. Inspect the splines for excessive wear and damage.
3. Check the shaft bearing surface for scoring and excessive wear.
4. Before installing new O-rings, wrap the shaft splines with tape to prevent the O-ring damage.
5. Lubricate all parts with ATF during assembly.
6. Install the conical spring washer and the 41 x 68 mm thrust washer in the direction shown.
7. Replace the locknut and the conical spring washer with new ones when assembling the transmission.
8. Check the clearance of 5th gear (see page 14-287).
1. Remove the mainshaft transmission housing bearing (seepage 14-270). 2. Install the thrust needle bearing ( A ) , 5th gear ( B ) , the needle bearing (C), the thrust needle bearing (D), the 41 ...
See also:
DTC Troubleshooting
DTC P0420: Catalyst System Efficiency Below Threshold NOTE: - Before you troubleshoot, record all freeze data and any on-board snapshot, and review the general troubleshooting information (see pa ...
Air Cleaner Removal/Installation
1. Disconnect the MAF sensor/IAT sensor connector (A). 2. Remove the harness clamps (B) and the bolts (C). 3. Loosen the band (D), then remove the air cleaner housing (E). 4. Install the par ...
Fuel Pump/Fuel Gauge Sending Unit Replacement
1. Remove the fuel tank unit (see page 11 -320). 2. Remove the fuel level sensor (fuel gauge sending unit) (A) from the fuel tank unit (B). 3. Check these items before installing the fuel tank ...