Honda Accord: Mainshaft Disassembly, Inspection, and Reassembly
1. Inspect the thrust needle bearings and the needle bearings for galling and rough movement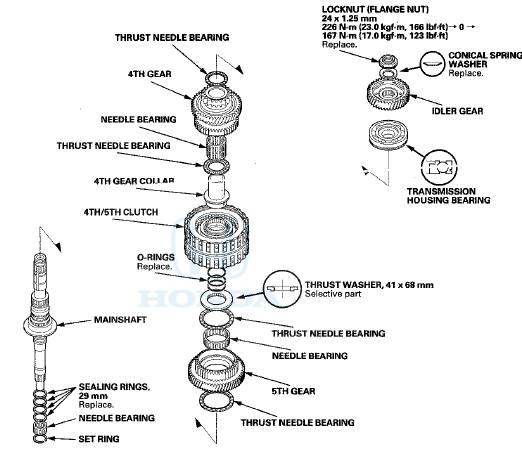 2. Inspect the splines for excessive wear and damage.
3. Check the shaft bearing surface for scoring and excessive wear.
4. Before installing new O-rings, wrap the shaft splines with tape to prevent the O-ring damage.
5. Lubricate all parts with ATF during assembly.
6. Install the conical spring washer and the 41 x 68 mm thrust washer in the direction shown.
7. Replace the locknut and the conical spring washer with new ones when assembling the transmission.
8. Check the clearance of 5th gear (see page 14-287).
1. Remove the mainshaft transmission housing bearing (seepage 14-270). 2. Install the thrust needle bearing ( A ) , 5th gear ( B ) , the needle bearing (C), the thrust needle bearing (D), the 41 ...
See also:
Change Lever Assembly Disassembly/Reassembly
NOTE: Prior to reassembling, clean all the parts in solvent, dry them, and apply grease to contact surfaces as shown. Do not wash the rubber parts with solvent. ...
Middle Crossmember Gusset Replacement
2-door NOTE: Take care not to scratch the body. 1. Remove the rear side trim panel (see page 20-127). 2. Pull back the rear part of the carpet as needed. 3. Remove the bolts (A, B), then rem ...