Honda Accord: Mainshaft Disassembly, Inspection, and Reassembly
1. Inspect the thrust needle bearings and the needle bearings for galling and rough movement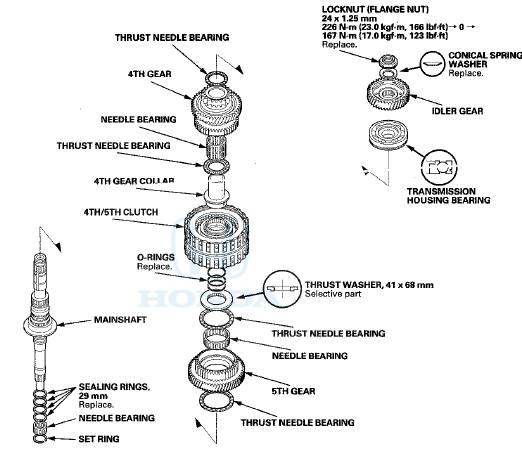 2. Inspect the splines for excessive wear and damage.
3. Check the shaft bearing surface for scoring and excessive wear.
4. Before installing new O-rings, wrap the shaft splines with tape to prevent the O-ring damage.
5. Lubricate all parts with ATF during assembly.
6. Install the conical spring washer and the 41 x 68 mm thrust washer in the direction shown.
7. Replace the locknut and the conical spring washer with new ones when assembling the transmission.
8. Check the clearance of 5th gear (see page 14-287).
1. Remove the mainshaft transmission housing bearing (seepage 14-270). 2. Install the thrust needle bearing ( A ) , 5th gear ( B ) , the needle bearing (C), the thrust needle bearing (D), the 41 ...
See also:
Remote Transmitter
LOCK - Press this button once to lock both doors. Some exterior lights will flash once. When you push LOCK twice within 5 seconds, you will hear a beep to verify that the doors are locked ...
Accessories
Your dealer has Honda accessories that allow you to personalize your vehicle. These accessories have been designed and approved for your vehicle, and are covered by warranty. Although non-Hon ...
USB Flash Memory Device Error Messages
If you see an error message on the audio display while playing a USB flash memory device, find the solution in the chart to the right. If you cannot clear the error message, take your vehicl ...