Honda Accord: Fuel Fill Door Adjustment
1. Slightly loosen the hinge mounting bolts (A).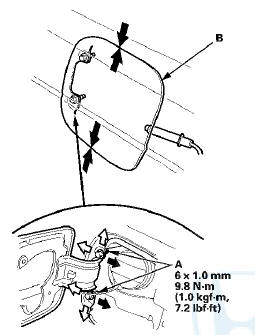 2 . Adjust the fuel fill door (B) in or out until it is flush with the body, and up or down as necessary to equalize the gaps.
3. Tighten the hinge mounting bolts.
4. Check that the fuel fill door opens properly and locks securely, and check that the rear of the door is flush with the body.
5. Apply multipurpose grease to each location indicated by the arrows.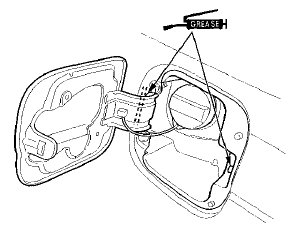 6. Apply touch-up paint to the hinge mounting bolts and around the hinges.
NOTE: - Put on gloves to protect your hands. - Take care not to scratch the body. 1. Remove the fuel pipe protector (see page 20-294). 2. Remove the fuel cap (A) by turning it counterclockw ...
See also:
Front Accessory Power Socket Test/Replacement
NOTE: If all of the front and console accessory power sockets do not work, check the No. 18 (7.5: A> fuse in the driver's under-dash fuse/relay box and ground (G503) first. 1. Remove the cent ...
Tie-rod End Ball Joint Boot Replacement
Special Tools Required Bearing Driver Attachment, 36 07965-SA50500 1 Disconnect the tie-rod end ball joint from the knuckle (see step 26 on page 17-41). 2. Remove the tie-rod end from the rack e ...
Important Maintenance Precautions
If you have the required service done but do not reset the display, or reset the display without doing the service, the system will not show the correct maintenance intervals. This can lead ...