Honda Accord: Countershaft Reverse Selector Hub and 3rd Gear Removal
1. Install a commercially available bearing separator on 4th gear (A). Set the countershaft (B) on a press with a spacer (C) between the press and the countershaft, and remove the reverse selector hub (D).
NOTE: Some reverse selector hubs are not press-fitted, and can be removed without using the bearing separator and a press.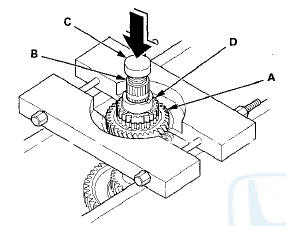 2. Remove the needle bearing, the set ring, the 35 x 47 x 7.8 mm collar, and the 31 mm cotters.
3. Set the countershaft (A) on the press with the spacer (B) between the press and the countershaft, and remove 3rd gear (C).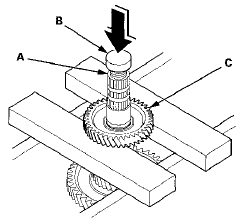 4. Remove the 37 x 41 x 54.3 mm collar, 5th gear, 1st gear, and 2nd gear.
1. Inspect the needle bearings for galling and rough movement. 2. Inspect the splines for excessive wear and damage. 3. Check the shaft bearing surface for scoring and excessive wear. 4. Lubr ...
Special Tools Required Driver Handle, 40 mm I.D. 07746-0030100 1. Install 2nd gear, 1st gear, 5th gear, and the 37 x 41 x 54.3 mm collar on the countershaft. 2. Slide 3rd gear (A) over the count ...
See also:
Circuit Diagram
With navigation system Without navigation system ...
System Description
EX-L, EX-L PZEV models The automatic dimming Inside mirror has a front-facing lux level sensor (A), rear-facing lux level sensors (B), and a control unit. The control unit receives signals from ea ...
ECT Sensor 2 Replacement
1. Remove the front splash shield, (see page 20-291) 2. Drain the engine coolant (see page 10-6). 3. Disconnect the ECT sensor 2 connector (A), then remove ECT sensor 2 (B). 4. Install ECT sen ...