Honda Accord: Closing Force and Opening Drag Check
1. Remove the headliner (see page 20-140).
2. Closing force check: - Cover the leading edge of the glass (A) with a shop towel (B), and attach a spring scale (C) as shown.
- Have an assistant hold the switch to close the glass while you measure the force required to stop it.
- Read the force as soon as the glass stops moving, then immediately release the switch and a spring scale.
Closing force: 200-290 N (20-30 kgf, 4 4 - 6 6 ibf)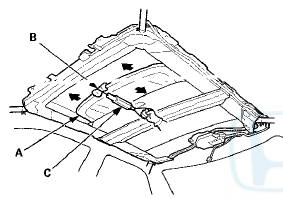 3. If the force in not within specification, remove the moonroof motor ( s e e page 20-96), and check the following items: - Check the gear teeth and the inner cable for breakage or damage. If the gear teeth-are broken, replace the motor. If the inner cable is damaged, remove the frame (see page 20-97), and replace the cable (see page 20-100).
- Check the moonroof motor (see page 22-373). If the motor fails to run or does not turn smoothly, replace it with a new one.
- Check the opening drag. Go to step 4.
4. Opening drag check: Cover the leading edge of the glass with a shop towel (A). Measure the effort required to open the glass with a spring scale (B) as shown.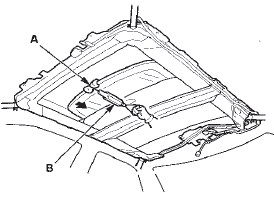 5. If the load is over 40 N (4 kgf, 9 Ibf), check: - The side clearance and glass position adjustment (see page 20-91).
- For broken or damaged sliding parts. If any sliding parts are damaged, replace them.
6. Reset the moonroof control unit (see page 22-371) after reinstalling the moonroof motor.
NOTE: Put on gloves to protect your hands. 1. Remove these items: . - Headliner (see page 20-140) - Moonroof glass (see page 20-91) 2. Remove the frame (see page 20-97). 3. Remove these par ...
See also:
Crankshaft Installation
Special Tools Required Driver Handle, 15 x 135L 07749-0010000 Attachment, 24 x 26 mm 07746-0010700 Oil Seal Driver Attachment, 96 mm 07ZAD-PNAA100 1. M/T model: Install the crankshaft end bushing ...
Front Seat Recline Motor Replacement
Driver's Seat (10-way Power Seat) SRS components are located in this area. Review the SRS component locations, 2-door (see page 24-23), 4-door (see page 24-21) and the precautions and procedures ( ...
Auto Door Locking/Unlocking
Your vehicle has customizable settings for the doors to automatically lock and unlock. There are default settings for each of these features. You can turn off or change the settings for thes ...