Honda Accord: VSA Sensor Neutral Position Memorization
NOTE: Do not press the brake pedal during this procedure.
1. Park the vehicle on a flat and level surface, with the steering wheel in the straight ahead position.
2. With the ignition switch in LOCK (0), connect the HDS to the data link connector (DLC) (A) under the driver's side of the dashboard.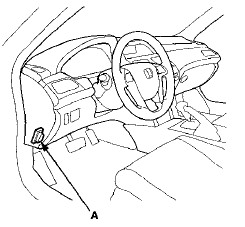 3. Turn the ignition switch to ON (II).
4. Make sure the HDS communicates with the vehicle and the VSA modulator-control unit. If it doesn't, troubleshoot the DLC circuit (see page 11-181).
5. Select VSA ADJUSTMENT with the HDS, and follow the screen prompts.
NOTE: See the HDS Help menu for specific instructions.
6. Turn the ignition switch to LOCK (0).